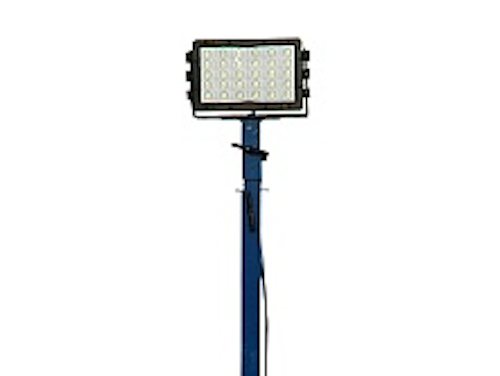 KEMP, Texas--Longtime leader in commercial and industrial grade lighting equipment Larson Electronics has announced the release of a 150 watt LED light head mounted to an aluminum quadpod with a 50' retractable cord reel. This unit can be used with 12 or 24 volts DC and is ideal for use as work area illumination, event lighting, emergency operations lighting, or equipment lighting.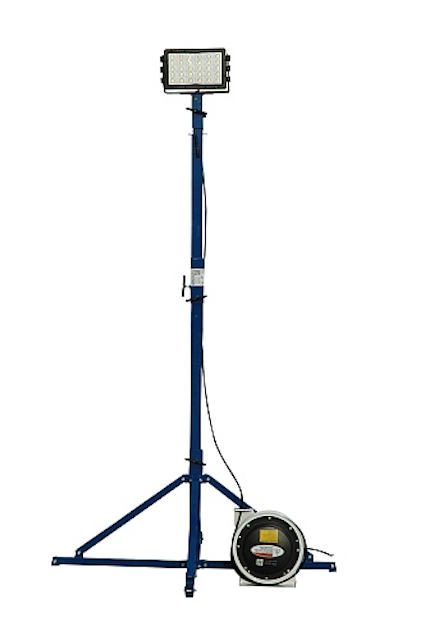 The LEDP5W-TP1-50CR light tower provides operators with a versatile lighting solution for operations where easily managed mobile illumination is required. It comes complete with an IP68 rated 150 watt LED light head, an aluminum quadpod, and 50' SOOW cord in a retractable cord reel. The LED light head mounted atop of a 7' to 12' extendable quadpod produces 14,790 lumens of flood light capable of illuminating an area 540' in length by 480' in width. The LED light emitter contains thirty 5 watt LEDs producing 493 lumens each arranged in a heavy duty aluminum housing to produce a 60° flood beam ideal for use as mobile work and area lighting. The LED unit is waterproof to 3 meters, sealed against intrusion by dust and dirt, and very ruggedly constructed to withstand the most demanding environments, conditions and applications.

This portable LED light is comprised of an adjustable LED light head mounted on a four leg quadpod fabricated from non-sparking powder coated aluminum. This adjustable and collapsible quadpod can be extended to 12' and collapsed to 7'. The LED light fixture assembly can be removed by releasing the hand knob and sliding the light and mounting bracket off of the center support while the legs can be collapsed, aiding in deployment, storage, and transport.

"Though we offer this specific configuration in a flood light version for work area illumination, a spot light version is offered as well," said Rob Bresnahan with Larsonelectronics.com. "The spot light configuration produces a beam that is 1200' long by 140' wide for illumination at a distance."

Larson Electronics carries a wide selection of portable work lights, explosion proof lights, portable power distributions and light masts.

Contact:

Larson Electronics
+1-800-369-6671 or +1-214-616-6180

E-mail:

Web site: