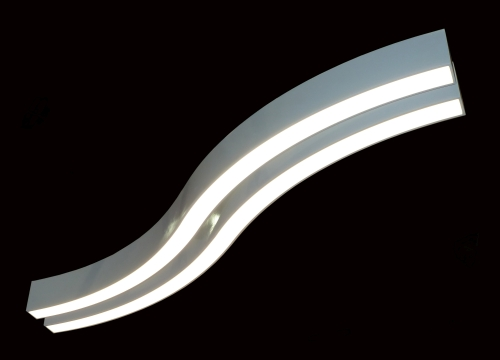 The popular Tangent™ customizable lighting contour series from VoksLyte™ has been expanded to include a pair of breathtaking offerings. The sculptural lines and discreet 2-inch wide by 3 1/2-inch tall profile of the Tangent™ luminaire have been sculpted into two beautiful new shapes: One with parallel opposing curved lines called Onde™, and one formed into a vertical wave called Meandro™. The sinuous twin curves of the Onde™ make a beautiful statement, creating a unique luminaire for the office, retail or hospitality space. The Meandro™ invents a singular visual aesthetic with a luminaire curved along its taller vertical dimension. Both Onde™ and Meandro™ are available in 48-inch standard lengths with custom sizes and contours available to configure to most any specification.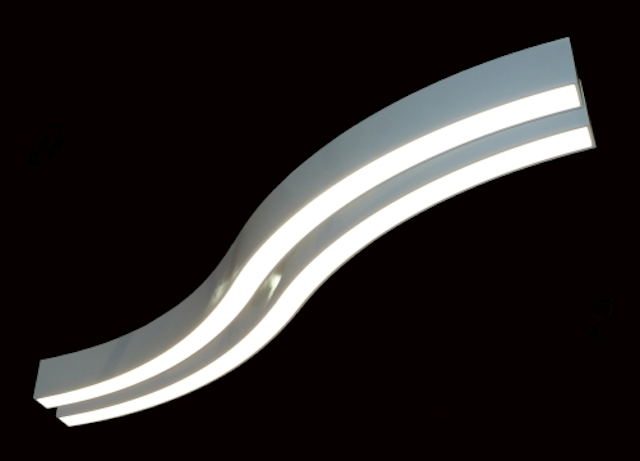 VoksLyte designs new Tangent contoured LED luminaires

All luminaires in the Tangent™ Series can be pendant or surface mounted, are available in a variety of powder-coat colors and feature a 50,000-hour LED life with your choice of high or standard output. Each luminaire is available in four dimmable color temperatures from 2700°K to 4000°K. All Tangent Series™ luminaires feature integral drivers, simplifying all aspects of installation and maintenance, while providing the most minimalistic luminaire appearance.

Tangent Onde ™ and Tangent Meandro™ Product Features
- Available in a standard 48" lengths with custom lengths available allowing complete freedom of design
- Onde™ is 6" wide, 3 1/2" tall, 48" long and weighs a minimal 17 lbs. / 72 watts
- Meandro™ is 2" wide, 3 1/2" tall, 48" long and weighs 9 lbs. / 36 watts
- 50,000 hour LED light engine dimmable to 10%
- LED light engines available in high output and standard output
- Solid state light engines produce outstanding lumen outputs and efficacies
- High light transmission semi-opaque acrylic lens
- Available in variety of powder coat finishes
- ETL Listed
- Made in USA
For additional information on Tangent Onde™ and Tangent Meandro™, visit www.VoksLyte.com.

About VoksLyte™
We have always been fascinated with the beauty of curved illuminated forms. Tangent™ customizable lighting contours take this concept even further. We factory curve the extruded aluminum profile to almost any elegant radius…or any straight or bent shape and light the contour from within. These beautiful custom luminaires are available in pendant and wall mounted UpLight-Downlight, and surface, recessed or pendant mounted Downlight versions. The 2-inch wide luminaires are sectionalized and join perfectly to form seamless circular, curved, elliptical, racetrack, free-form, straight or angled architectural illumination...Vokslyte™ merging the art of metal and the science of light.

Contact:

VoksLyte
+1-301-921-4120

E-mail:

Web site:

www.VoksLyte.com

Submit new products, case studies/projects, and other press releases at http://www.ledsmagazine.com/content/leds/en/addcontent.html and http://www.ledsmagazine.com/content/leds/en/iif/add.html.