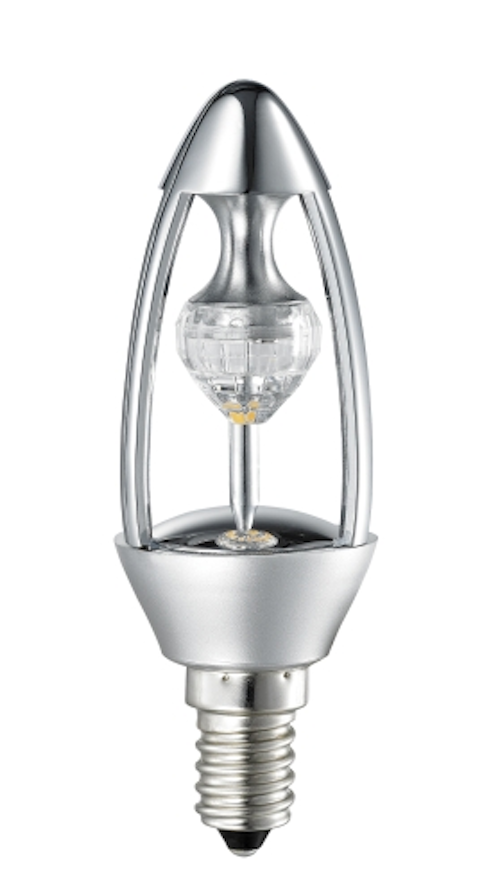 Global lighting innovator creates "Light as Art" in the North American LED replacement lamp market

Cary, North Carolina – Civilight North America is now in volume production with their broad portfolio of LED lamps for the North American market. These LED lamps were initially developed for the European market and have been market-tested and customer-accepted in this demanding lighting market since 2006. Optimized and improved through market feedback from the global lighting community, Civilight's products are offered in three series – Architectural, Professional and Commercial. These products provide a long lifetime of up to 40,000 hours and reduce energy consumption by up to 85 percent compared to traditional incandescent lamps.

"We are thrilled to now offer our North American lighting customers, as well as our sales and distribution partners, our latest technology and our strongest performing LED lamps for their lighting designs and projects," said Jeff Lagaly, CEO of Civilight North America. Specifically, we have a complete offering of six standard lamp families, and within these families, we have three series that allow us to offer our customers multiple solutions that blend cost, performance, CRI and aesthetics.
I would like to briefly highlight each family so that your readers can get a sense of why we are so excited."

The Civilight MR16 family is designed to replace halogen MR16s for accent and ambient lighting in display cases, cabinets, recessed and track lighting applications. Included in this family is the dimmable Architectural 10-watt MR16 in a GU5.3 base that delivers up to 520 lumens and a high 95 color rendering index (CRI) with an R9 value of 80. Designed around Civilight's patented HALED ™ design, the lamps beautifully replicate traditional MR16s in both look and light distribution. Five other models, in 7-, 8- and 9.5-watt versions, are offered in GU5.3 and GU10 bases in 2700K, 3000K and 4000K CCTs and deliver up to a 95 CRI and 500 lumens.

The Civilight bulb family offers an A19 with an 800 lumen output and up to a 97 CRI with an R9 value of 80. This unique Architectural 10-watt LED A19 produces a beautiful and uniform light output for distinctive designs. The dimmable lamp replaces a 60-watt incandescent and is available in a standard E26 (Edison) base for use in table and floor lamps, wall sconces and pendants in residential and hospitality and other applications. Replacing a 40-watt incandescent lamp, the 6.5-watt model offers lumens of 450. Both models are available in 2700K, 3000K and 5000K CCTs. Also in Civilight's bulb family is a broad range of candelabras featuring the Architectural 6-watt LED Diamond with a high-end metallic finish in silver or gold and a revolutionary patented optical design. Civilight also offers 3-, 4- and 6-watt models in clear, diffuse and crystal styles that produce up to 500 lumens for simple screw-in installation in chandeliers, decorative lighting fixtures and wall sconces in residential, commercial and hospitality applications. The candelabras are offered in warm white 2500K and 2700K CCTs, and all models are dimmable.

The Civilight PAR family includes the Architectural 19-watt PAR38 that emits up to 1,300 lumens from a single light source and is glare free to the eye. Civilight offers the lamp in 2700K, 3000K and 4000K CCTs, making it perfect for recessed downlights and track lights in retail, corporate, hospitality commercial and residential applications. The lamp also features a high 95 CRI, an R9 value of 85 and boasts a smart heat sinking design. Civilight offers 65 additional models in PAR20, PAR30 and PAR38 form factors in 8- to 19-watt styles that replace traditional halogen lamps and offer CRIs of up to 95.

The Civilight BR family includes the Architectural 18-watt BR40 that is distinguished by its ability to emit 1,350 lumens in a beautiful light, and with an all-white, smooth heat sink, a CRI of up to 97 and an R9 value of 80. Elegant aesthetics make this this BR lamp ideal for any BR40 application. This dimmable lamp is available in 2700K to 5000K CCTs. Civilight also offers two BR30s that deliver 650 or 875 lumens and up to 97 CRI with an R9 value of 80.

The Civilight linear tube family will feature the Architectural 10-watt 2' LED Tube and Architectural 20-watt 4' LED Tube, which respectively replace 17- and 32-watt fluorescents. Available in 3000K to 5000K CCTs, these lamps combine a high CRI of 93 with a wide 300 degree viewing angle to provide excellent light distribution. The 4' LED tubes deliver up to 2,000 lumens for a variety of commercial applications, including factories and warehouses, corporate office buildings, supermarkets, shopping malls, retail stores and schools.

The Civilight downlight family includes the Professional 14-watt 5/6" Downlight that is available in standard Edison or GU24 bases and replaces 75-watt incandescent lamps in new or existing recessed downlight fixtures. The dimmable downlights are offered in CCTs that range between 2500K and 5000K, with up to 1,000 lumens, and are ideal for customers that are trying to accelerate their ROI. Civilight's downlight portfolio also includes a 12-watt 5/6" and a 10-watt 4" model that deliver a CRI of up to 97 with an R9 value of 85.

For more information on Civilight North America and its lineup of Light as Art LED lamps, visit http://www.civilight-na.com.

About Civilight
Civilight is a world leader engaged in research and development, manufacturing and global marketing of LED lighting products. Civilight has more than 13 years of experience in LED packaging and innovation in LED lighting applications products, and is at the forefront of introducing state-of-the-art LED lighting products and solutions to customers worldwide. The company is the recipient of China's High Tech Enterprise Award and holds more than 200 global patents and certificates.

Contact:
Sharon Katz, Director of Marketing - Civilight