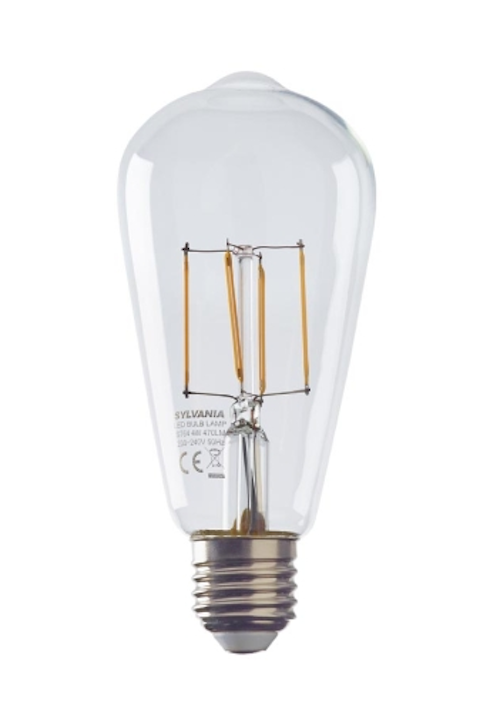 Sylvania has launched the ToLEDo Retro range, a complete series of A++ Energy rated lamps to replace traditional light sources. The new products include A60, Globe, ST64 and Candle lamps and the complete range has been designed to keep the look and feel of incandescent lamps while offering up to 90% energy savings. All lamps within the range are non-dimmable and available in Homelight 2700K, backed by a three year warranty for complete peace of mind.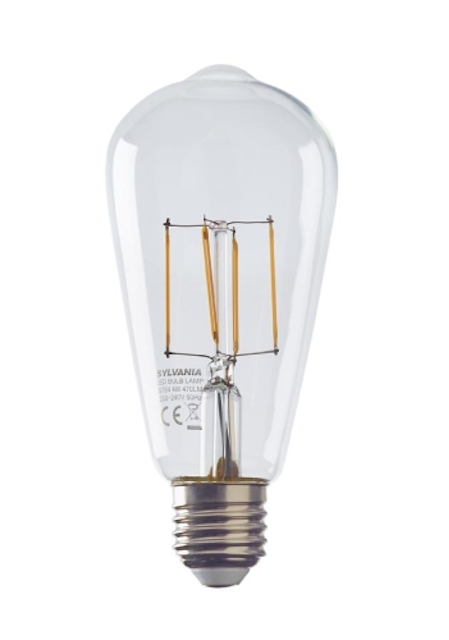 Sylvania introduces LED filament lamps with 2700K CCT for hospitality and residential lighting applications
The new lamps are exactly the same dimensions as traditional incandescent and halogen versions and offer the same sparkling lit effect. They also provide end-users with energy savings and a lamp that lasts up to 15 times longer than the traditional incandescent bulb. Combining instant light and warm rich colours with the highest energy efficiency and a classical look, these lamps are also an alternative to slow starting, less aesthetically pleasing low energy compact fluorescent lamps.

Ideal for use in hotels, bars, restaurants and residential applications, the Sylvania ToLEDo Retro lamps have a high efficacy of up to 128Lm/W, a wide beam angle of 300 degrees and with a 15,000 hour lifespan, these lamps offer a quick payback period. They are direct replacements for existing 25W, 40W and 50W incandescent lamps as well as halogen and compact fluorescent lamps and are perfect for retrofit applications. For example, the 4W LED Virtual Filament lamps will replace a 40W incandescent version to lower power consumption and saving 90% on energy costs.

"We are delighted to launch a lamp range that has the look and feel of a traditional filament lamp with an A++ Energy rating," comments Fabio Rodriguez, European Marketing and Communications Manager at Sylvania. "We are constantly pushing the boundaries of lighting technology and looking for new ways we can provide energy-efficient LED based solutions. The new Sylvania ToLEDo Retro range demonstrates the dedication and innovation we have within our R&D and manufacturing departments to provide customers with exact LED alternatives to traditional lamp types."

Over the next few months, Sylvania will be introducing 470lm and 640lm versions of the A60 and G80 lamps, 250lm and 400lm candles, 400-470lm versions of ST64 (squirrel cage) lamps and 300- 350lm reflectors . Sylvania will also be introducing dimmable versions and other lamp types in 2015 with the aim of replacing all incandescent lamps with LED versions.

For more information please visit www.sylvania-lamps.com and test out the energy saving calculator to find out the savings that can be made by switching lamps.

About Sylvania Lamps from Havells-Sylvania
The Sylvania brand is part of the Havells-Sylvania Group and is one of the world's largest manufacturers of artificial light sources. It has a broad product offering that includes incandescent, halogen, CFL, HID and LED lamps, alongside various special products for the professional specifier. Sylvania lamps are distributed from stock, through national sales operations, as well as via individual countries' professional distribution channels such as wholesalers, specifiers and installers; as well as to the consumer via the retail channel.

Formed in April 2007, Havells-Sylvania is owned by Havells India Ltd, a US$ Billion plus company. With 94 branches and representative offices worldwide, and over 8000 employees working in more than 50 countries; Havells has grown rapidly since its humble beginnings in Delhi in 1958. Havells has eighteen manufacturing plants in India, Europe, Latin America and Africa; producing globally acclaimed products, including: switchgear, cables, wires, luminaires and lamps.

Havells-Sylvania is a leading, full-spectrum provider of professional and architectural lighting solutions. Built on over a century of expertise in lamps and luminaires, Havells-Sylvania supplies state-of-the art products and systems to the public, commercial and private sectors, worldwide. Havells-Sylvania strives to deliver the finest products, service and consulting possible. All over the world, people rely on group companies: Concord, Lumiance and Sylvania, for top quality, energy-efficient solutions to suit their individual lighting needs.

Contact:
Havells Sylvania Europe Ltd
+44-0207-011-9700
Web site:

Submit new products, case studies/projects, and other press releases at http://www.ledsmagazine.com/content/leds/en/addcontent.html and http://www.ledsmagazine.com/content/leds/en/iif/add.html.