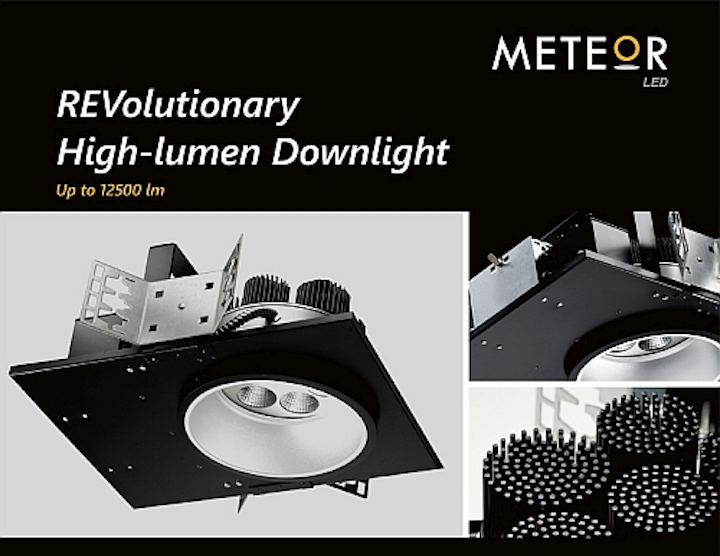 METEOR expands its premier sustainable lighting solutions with the launch of REV Series - Recessed Downlight in 145W and 95W. The highly efficient luminaires deliver high lumen (12500lm) and a variety of dimming options: 0-10V, DMX, and VX DMX.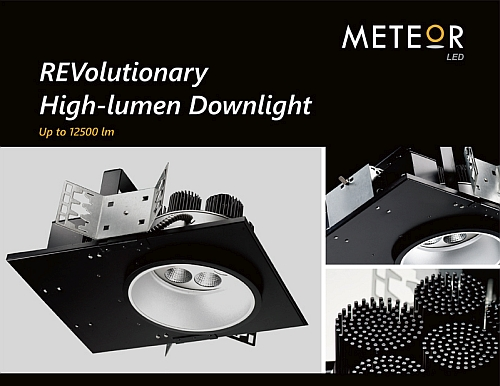 Meteor Lighting launches 145W and 95W REV Series LED downlights for high ceiling applications

The clean aesthetic makes the fixture ideal for high ceiling applications (18'-100') such as department stores, theaters, auditoriums, and airports.

Through technical innovations in mechanical and thermal management design, METEOR's REVolutionary REV Series delivers 12500 lumens at 145W, which exceeds lumen output for majority of LED downlights on the market which remain around 5000 lumens or less. The REV Series is an ideal replacement for CFL, metal halide lamps with optimum lumen output, energy savings, robust design, and maintenance savings.

REV Series is one of the few recessed downlights on the market to offer a variety of advanced ultra-smooth dimming options: 0-10V, DMX, and VX DMX. 0-10V dimming driver can dim to less than 1%. Both DMX and VX DMX deliver high resolution RDM (Remote Device Management) with 4096 steps and less than 0.4% dimming level. With the rise in digital technology use, METEOR developed VX DMX driver which is optimized for digital video recording and broadcast.

REV Series feature matte diffuse reflector with anodized finish and a variety of beam angles (20°, 35°, 50°) to achieve uniform distribution without glare. The 8" round fixture is offered in normal and high output lumen packages with 2700K, 3000K, 3500K, and 4000K correlated color temperature options.

Contact:

Meteor Lighting - ILOS Corporation
+1-213-255-2060

E-mail:

Web site:

Submit new products, case studies/projects, and other press releases at http://www.ledsmagazine.com/content/leds/en/addcontent.html and http://www.ledsmagazine.com/content/leds/en/iif/add.html.