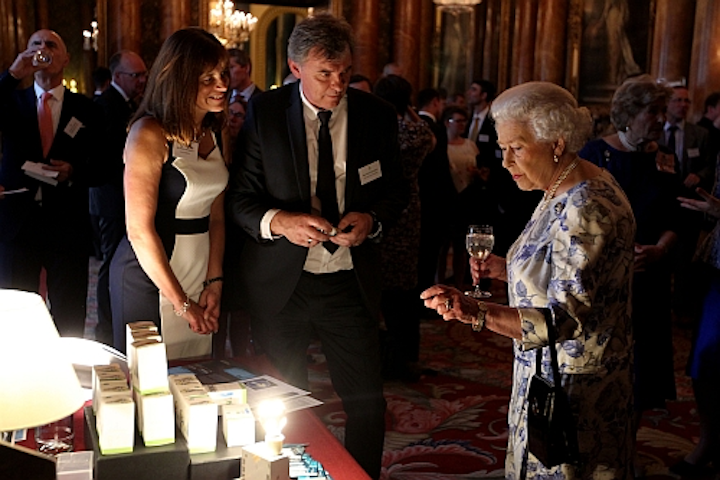 Lighting up the Palace

Zeta Specialist Lighting, the Bicester-based innovative developer and manufacturer of LED and solar powered lighting solutions, was one of just eight British technology companies invited to present their new product innovations to Her Majesty The Queen, at a reception held at Buckingham Palace on Monday June 9.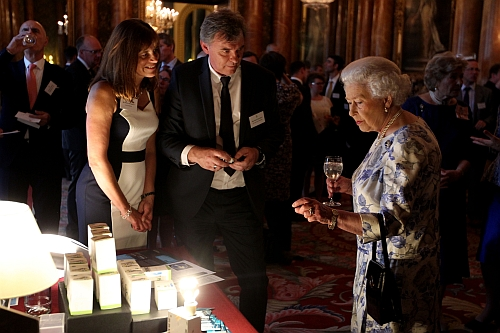 Zeta Specialist Lighting presents LED products to British monarchy

The event was organised by Prince Andrew in conjunction with the Technology Strategy Board and was attended by 350 fast moving technology companies, of whom only eight were selected to set-up a display stand and exhibit their products to the Queen and Prince Philip.

Phil Shadbolt, Zeta's Managing Director demonstrated the firm's Life Bulb -- a replacement for the traditional 60W incandescent light bulb. This energy-efficient innovation has a unique design that keeps the LEDs cool, which results in a longer life. Zeta's Life Bulb lasts for 50,000 hours which translates to around 20 years in a domestic environment.

During the audience, Her Majesty explained that she would like the Palace to be better lit and asked if the Life Bulb would work in its ornate chandeliers. She also later requested two samples of the bulbs to try in her private quarters.

In 2010 Zeta won funding from the Technology Strategy Board and Defra, through the Small Business Research Initiative. This supported the design and development of the ground-breaking Life Bulb which will be manufactured in the firm's Bicester production facility.

The company is celebrating its 25th year in business this year and has invested GBP 3.5 million in its people and infrastructure. Upgrading its UK Head Office included building a new LED manufacturing facility - the only one of its kind outside of Asia, and will enable the firm to reshore much of the production currently carried out in the Far East back to to UK, while simultaneously creating new jobs.

About Zeta Specialist Lighting
Part of the Zeta Group, Zeta Specialist Lighting is a UK-based developer and manufacturer of LED and solar powered lighting systems. The company designs, develops and manufactures intelligent, robust and reliable engineered products suited to a wide range of applications. From LED solutions that lower energy bills and carbon emissions for customers across the world, including custom luminaires for street lighting, amenity lighting, signage, and factory fluorescent tube replacement; to the design and manufacture of complete solar lighting solutions.

Contact:

Zeta Specialist Lighting
+44-(0)-1869-322-500

E-mail:

michelle.ryder@clearercommunications.co.uk

Web site:

Submit new products, case studies/projects, and other press releases at http://www.ledsmagazine.com/content/leds/en/addcontent.html and http://www.ledsmagazine.com/content/leds/en/iif/add.html.