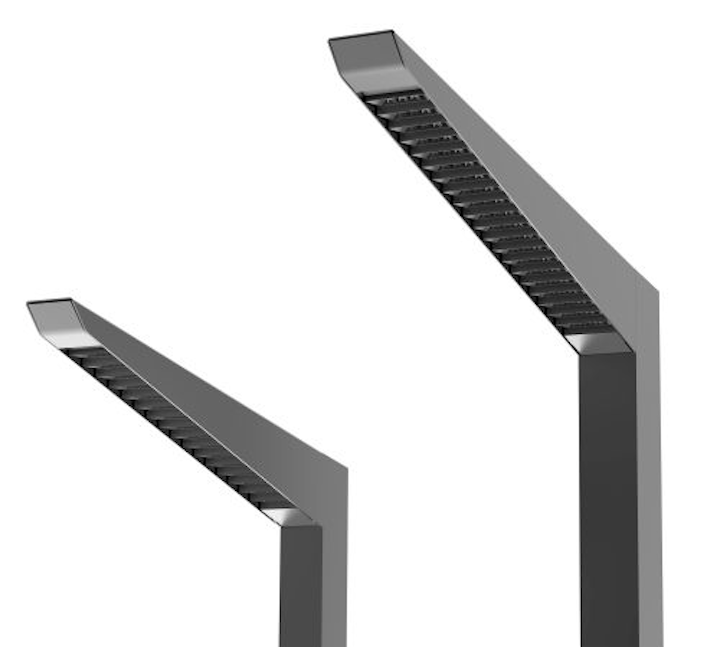 Greenville, SC – Hubbell Lighting, a world leader in lighting innovation, announces the introduction of Architectural Area Lighting's (AAL) latest site and area lighting masterpiece—the LED KicK™. Representing an entirely new class of LED luminaire, the KicK™ is the industry's first product to angle upwards and yet provide full light cutoff.
Architectural Area Lighting LED KicK outdoor luminaire angles light output for pedestrian comfort

Fusing a contemporary urban design with advanced LED technology, the KicK™ combines form and function where it matters most—on the pedestrian scale. The pole and luminaire are stylishly integrated into one bold angular design that delivers a truly elegant low glare solution for walkways, paths and building entrances.

The simplicity of the patent-pending Stair Step optic design lets form follow function, resulting in the luminaire's slim and sleek design that hides the LEDs when viewed from behind. The KicK's™ unique optical system delivers an impressive 12,880 lumens at up 99 lumens per watt with 0% uplight and 0% backlight.

The luminaire is available in three color temperatures (3000K, 4200K, 5100K); three optical distributions (Type 2, 3 and 4); two popular sizes for flexibility (K4, 4" and K5, 5"); and three configurable mounting options including integral pole, tenon mount and side mount. AAL's KicK™ features integral surge and thermal protection, is 0-10V dimming ready and is compatible with a number of wired and wireless controls system including Hubbell Lighting's wiHUBB™.

To learn more about AAL's new KicK™, please visit the product's microsite at http://www.aal.net/content/products/k4k5/k4k5.html. We also encourage you to follow AAL on Twitter and 'like' our page on Facebook.

About Hubbell Lighting

Hubbell Lighting is one of the largest lighting fixture manufacturers in North America. The company provides a full range of indoor and outdoor lighting products serving the commercial, industrial, institutional, and residential markets. Hubbell Lighting brands include Alera Lighting, Architectural Area Lighting, Beacon Products, Columbia Lighting, Compass Products, Devine Lighting, Dual-Lite, HomeStyle Lighting, Hubbell Building Automation, Hubbell Industrial Lighting, Hubbell Outdoor Lighting, Kim Lighting, Kurt Versen, Litecontrol, Prescolite, Progress Lighting, Security Lighting, Spaulding Lighting, Sportsliter Solutions, Sterner Lighting Systems, Thomasville Lighting, and Whiteway. Hubbell Lighting: one name, distinctive brands, limitless lighting possibilities. For additional information, please visit www.hubbelllighting.com and follow Hubbell Lighting on LinkedIn, YouTube, Twitter and Facebook.
Contact:

Andy Beck - for Hubbell Lighting
+1-202-587-5634
E-mail:

Web site:

Submit new products, case studies/projects, and other press releases at http://www.ledsmagazine.com/content/leds/en/addcontent.html and http://www.ledsmagazine.com/content/leds/en/iif/add.html.