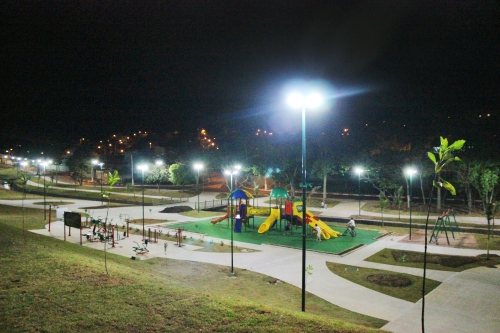 Montreal, Canada -- Future Lighting Solutions is pleased to announce the completion of a successful project with Tairis, installing new solid-state LED lighting fixtures for a new city park located in Vinhedo in São Paulo, Brazil.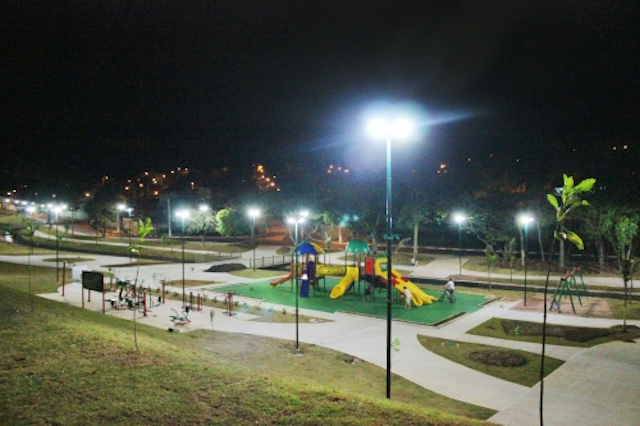 One of the main goals of the project included demonstrating to the city mayor and other officials the many advantages of solid-state lighting technology, particularly in regard to energy savings and reduced maintenance costs, as well as city beautification.
Future Lighting Solutions and Philips Lumileds played a pivotal role in the development and proof of concept for the new outdoor fixtures, while Tairis handled the manufacturing and installation. Future Lighting Solutions' exclusive Usable Light Tool (ULT) was critical in providing the data needed in order to determine the most effective and efficient products to be implemented in the project.
The new park, comprising 12,500 square meters in the city of Vinhedo, is used as a recreational area for the local population. 39 poles were installed, with 4 LIRA 8 models in each one, for a total of 156 @ 75W fixtures. 1,247 LUXEON M's were used, chosen for their lumen/W and lumen/$ ratios. Other products selected based on their superior performance include Philips Xitanium drivers and Ledil's Strada optics.
For more information about Future Lighting Solutions, visit www.FutureLightingSolutions.com.
About Tairis
Tairis, founded in 1993, is based in São Paulo, and specializes in the custom design of software, hardware, machinery and mechanical equipment, as well as research and product development for both commercial and residential use. In addition, the company handles electronic equipment and software used for tolls, traffic cameras, video monitoring and other complex industrial machinery.
About Future Lighting Solutions
Future Lighting Solutions is a leading provider of solid-state lighting technologies, engineering expertise and online simulation and design tools. Our mission is to facilitate application development and accelerate customers' time to market. Our comprehensive portfolio includes a broad selection of LED system components, and integrated solutions that enable our customers to manufacture cost effective, energy efficient lighting applications.
We provide one of the widest ranges of LED light sources available today, including power LEDs, mid-power LEDs, low-power LEDs, COB, arrays and LED lines and modules.
Optical solutions, power modules, passive and active thermal solutions, and remote phosphor technologies complete our broad product offering.
Our world-class team of lighting experts, along with our global lighting resource centers, supply chain solutions and network of specialized partners, ensure the highest quality solid-state lighting solutions for customers.
The company is a division of Future Electronics. For more information visit: www.FutureLightingSolutions.com.
Contact:
Future Lighting Solutions
Americas, Europe, Middle-East, Africa
Jamie Singerman

Asia Pacific
Flora Li
Flora.Li@FutureElectronics.com