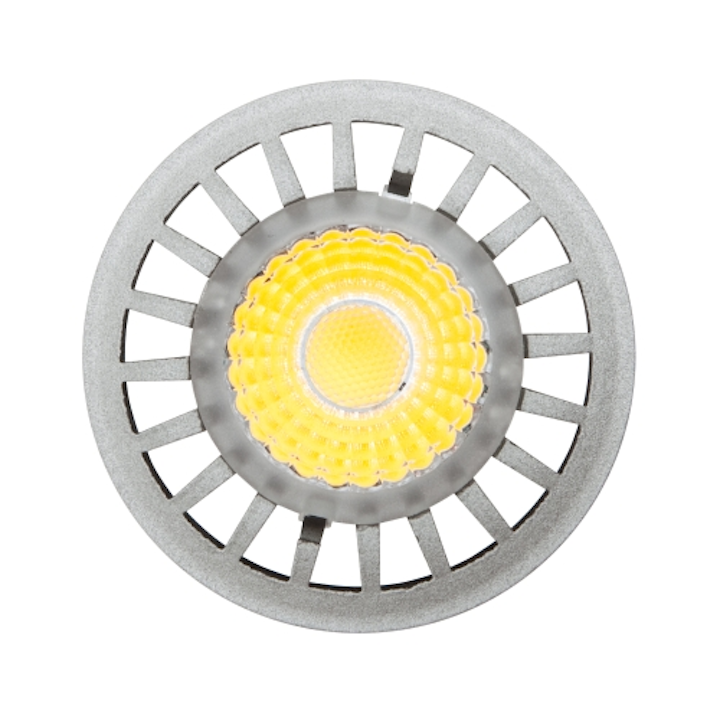 Verbatim has launched a professional range of class-leading PAR16 LED retrofit lamps with a GU10 base delivering up to 660 lumen output – almost twice as bright as a standard 50W halogen spot lamp.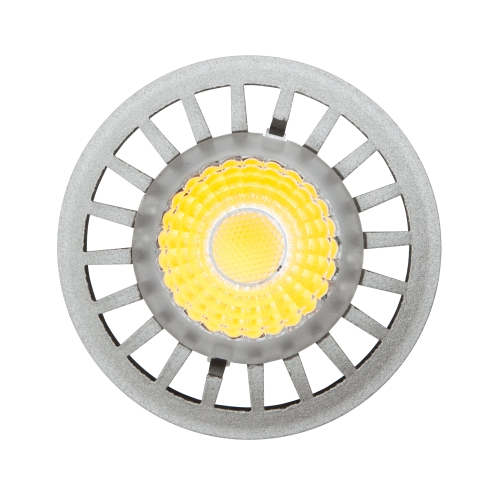 Verbatim PAR16 GU10 LED lamps deliver up to 660 lm along with dimmability and CCT options

Using technology developed by Verbatim's parent company Mitsubishi Chemical Corporation (MCC), the high performance LED lamps achieve increased heat dissipation through advanced thermal cooling using a sophisticated heatsink design. Coupled with improved airflow and employing the latest chip-on-board technology, the lamps can be driven harder without overheating and offer an extended lifetime of up to 40,000 hours.

Verbatim's latest GU10 LED range use single focus diamond cut optics that allow light to be dispersed in a defined manner, avoiding glare, stray light and hotspots associated with many competing products. The lamps are particularly suited for use in high ceiling fixtures present in retail, leisure and hospitality locations. With a 35° beam angle, the lamps focus light where it's needed with minimal spill. The PAR16's compact body (50mm diameter, 56mm height) ensures easy fitting and alignment into fixtures.

Offering 25% more efficiency than the previous generation, Verbatim's A+ energy efficiency rated PAR16 GU10 LED lamps provide a cost-effective replacement for halogen lamps. The lamps offer all the energy saving benefits of LED lighting together with exceptional high brightness, beam control and lifetime performance.

A family of four 8.5W PAR16 GU10 spotlights offer various lumen and colour temperature options, all at very high efficacy levels. Delivering between 590lm and 660lm, the LED lamps produce a luminous intensity from 1180cd to 1340cd at colour temperatures ranging from 2700K to 4000K. Three of the lamps offer high quality halogen-style dimming control at an attractive price. A fourth lamp in the family is a competitively priced alternative for professional applications where a non-dimmable option is better suited without sacrificing reliability and long lifetime – a product which Verbatim anticipates significant demand for.

Additionally, a family of four 6W PAR16 GU10 spotlights deliver between 400lm and 450lm of brightness (equivalent to a 60W or greater halogen lamp). The LED lamps produce luminous intensity from 1000cd to 1170cd at colour temperatures ranging from 2700K to 4000K. The lamps also offer improved compatibility to dimming controllers.

"With supporting technology from Mitsubishi, Verbatim's new PAR16 GU10 lamps have raised the bar as far as delivering brightness and quality of light is concerned. Twinned with the proven reliability customers continue to appreciate when using Verbatim LED products, we anticipate huge demand for these high performance spotlights and the broad choice of options allows lighting professionals to decide which to buy according to their preference," comments Jeanine Chrobak, Business Commercial Manager LED EUMEA, Verbatim.

Note:
(1) The lifetime of an LED defined as the time expected for it to drop to 70% of its initial light output. (2) 660lm of brightness is the equivalent to 91W from a halogen light source.
(3) Verbatim's new PAR16 GU10 range delivers up to 660 'useful' lumens (luminous flux from a 90° cone) and an overall luminous flux of up to 690 lumens.

About Verbatim
Verbatim is a leading global company in data storage and LED lighting with a broad product portfolio spanning consumer and professional applications. Verbatim has been shaping the development of data storage devices since 1969 and is the world's No 1 supplier of optical media (Blu-ray, DVD and CD). The company also markets flash memory, external hard drive storage solutions and a wide range of computer accessories.

In addition, the company is an innovator in fast-growing LED and OLED lighting, developing products that offer low power consumption, long life and a better lighting experience. It is also an emerging supplier of water filtration systems; its Cleansui brand is Japan's favourite water filter, and most recently it has launched a range of plastic filaments for the 3D printing industry.

Verbatim is a subsidiary of Mitsubishi Kagaku Media owned by Mitsubishi Chemical Corporation, one of the world's largest chemical companies, which invests heavily in R&D across many diverse sectors. The company's operating principles are founded on helping people to live in a healthy, comfortable and sustainable way. Verbatim's regional organisations are EMEA, APAC and Americas, with offices in most countries in the world. The company's European headquarters are based in the UK.
Contact:
Verbatim

Web site:

Submit new products, case studies/projects, and other press releases at http://www.ledsmagazine.com/content/leds/en/addcontent.html and http://www.ledsmagazine.com/content/leds/en/iif/add.html.