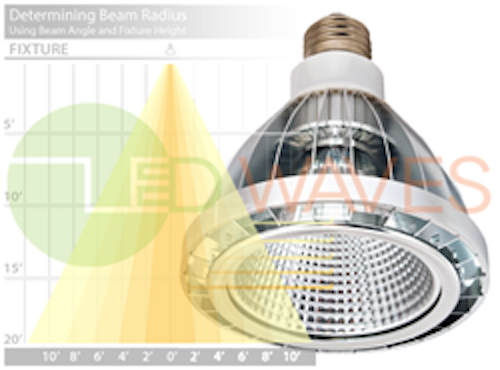 New articles at LEDWaves.com answer questions on waterproof LED lights and more.

New York-based lighting manufacturer LED Waves has updated their online help section with new articles and graphics. As the company sells both to professional lighting specifiers and directly to end users, their site visitors represent all corners of the residential, commercial, industrial, government, and transportation sectors. These resources are intended to help those with little to no technical knowledge specify the best LED lights for their application.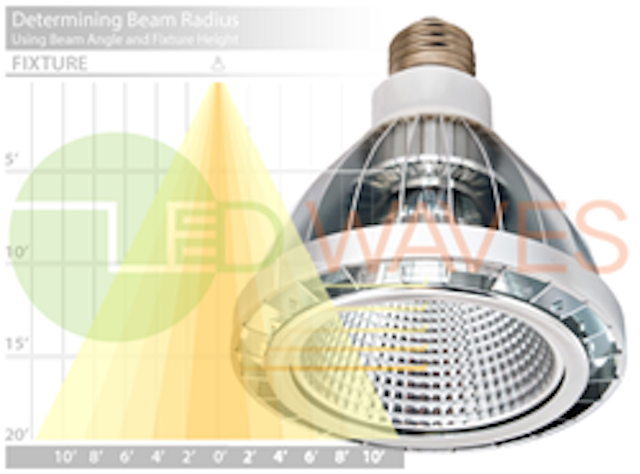 Lighting manufacturer LED Waves offers new articles on IP ratings and floodlight infographics for lighting specifiers and end users
This chart helps users find the optimal beam angle option for their LED flood light bulbs based on installation specs.

The most recently updated article, About IP Ratings, explains the international protection code commonly used to classify the weatherproofing or water resistance of lighting equipment. Using IP65 as an example, LED Waves illustrates each level of protection against the ingress of water, dust, and other particles. (IP65 is the rating on the company's Owl Pack™ outdoor LED floods, along with their waterproof strips, street lights, tunnel lights, and several other industrial luminaires currently in development.)

Since LED Waves specializes in LED floods, down lights and other spots, the company has also added a guide to beam spreads. It features infographics showing shoppers how to choose ideal beam angle options according to ceiling height and the quantity and in-between spacing of their fixtures.

As lighting class LEDs are relatively new, and replacement LED bulbs may appear unrecognizable from traditional models, LED Waves prioritizes education to help further the adoption of this energy-saving technology. The small business represents four family generations in lighting sales, giving them a uniquely informed perspective on the industry.

Other educational resources in their online help section include an energy savings and ROI calculator, an article on Correlated Color Temperature (CCT), and a general FAQ section on LED lighting technology. The company also hosts a blog regularly updated with product spotlights, special offers and solid state industry news. Additional information is available by calling 1(800)986-0169 or by filling out the contact form at LEDWaves.com.
Contact:

LED Waves
+1-800-986-0169
Web site:

Submit new products, case studies/projects, and other press releases at http://www.ledsmagazine.com/content/leds/en/addcontent.html and http://www.ledsmagazine.com/content/leds/en/iif/add.html.