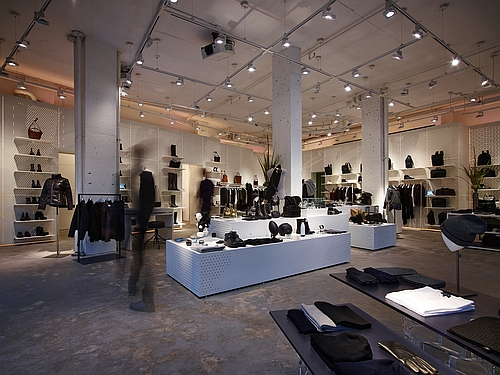 Fremont, CA – Soraa, the world leader in GaN on GaNTM LED technology, announced that its LED lamps have been installed in Kenneth Cole's flagship store at the corner of Bowery and Bond Street in New York City. The new store sets the stage for a new era of Kenneth Cole style and the bespoke retail experience. As you walk into the Kenneth Cole store, you immediately notice the stylish, curated display of clothes, bags and shoes—perfectly illuminated by Soraa's AR111 LED lamps.
Interested in more articles & announcements on LED lighting?

Kenneth Cole worked with lighting designers at Lites on West, who used 130 of the Soraa A111 LED lamps in track fixtures, giving the space tremendous dimming and control flexibility. Soraa's lamps create a theatrical feel, allowing the store to be the stage and the fashion to be the star. Soraa A111 lamps' high output, narrow spot, crisp beam edge and low glare make it the perfect lamp to illuminate this innovative space. What's more, Soraa LED lighting is as efficient as it is beautiful. The energy efficiency of Soraa's lamps kept the store within the City of New York's energy guidelines.
"Soraa, from the beginning, was a given. Everything worked as it was supposed to and the space and products look outstanding," said Gadi Benyaacov, Lites on West, a lighting design firm based in New York City.
Soraa A111 lamps feature the company's GaN on GaN™ LED technology that emits beautiful, high intensity light from a single point source; and the company's Violet-Emission 3-Phosphor (VP₃) LED technology that accurately renders colors and whiteness.
Utilizing every color in the rainbow, especially deep red emission, Soraa's lamps render warm tones beautifully and accurately, and achieve a color-rendering index (CRI) of 95 and deep red (R9) rendering of 95. And unlike blue-based white LEDs without any violet emission, the company's VP₃ NATURAL WHITE technology utilizes the violet emission to properly excite fluorescing brightening agents in clothing, paper and plastics and natural objects like human eyes and teeth.
Photo credit: MICHAEL MCWEENEY
About Soraa
Pioneering lamps using LEDs built from pure gallium nitride substrates (GaN on GaN™), Soraa has made ordinary lighting extraordinarily brilliant and efficient. Soraa's full spectrum GaN on GaN™ LED lamps have superior colour rendering and beam characteristics compared to lamps using LEDs created from non-native substrates. Founded in 2008, Soraa is located in Fremont California, where it manufactures its GaN on GaN™ LEDs in the company's state-of-the-art facility. For additional information, please visit the company website and follow the company on Twitter, LinkedIn and Facebook.
Contact:
Soraa
Web site:
Locate more LED lighting vendors in the LEDs Magazine Suppliers Directory

Submit new products, case studies/projects, and other press releases at http://buyersguide.ledsmagazine.com/c/general-lighting.html.

More from Soraa:
Soraa moves beyond LED lamps with glare-free, ambient LED luminaires
Soraa will exhibit new LED optical light engines at Strategies in Light