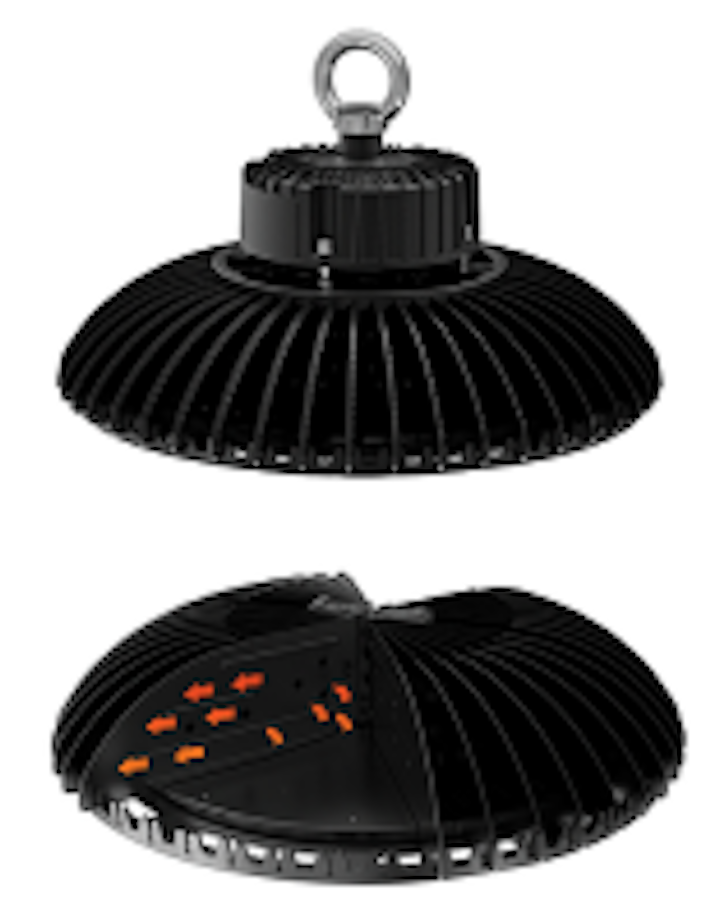 British lighting manufacturer Integral LED has recently turned its focus toward the industrial sector with the launch of an innovative high-bay lighting range. The powerful solid-state lamps are designed to replace the costly HiD lights that currently illuminate factories and warehouses across the country. The UK-based LED lighting brand has once again demonstrated its parallel pedigree in IT by adopting computer hardware design to produce a truly break-through luminaire. The new circular high-bay fixture weighs less than its competition and has an appearance that is equally suited to aesthetic interiors within retail.
Interested in more articles & announcements on LED lighting?

Integral's new high bay luminaire "The 4Kg" has been named to emphasise its unique feature, as the lightest suspended circular LED lamp on the market. The key to its low weight is the heatsink which is a patented design made entirely from wafer aluminium, rather than the usual cast metal component. The thermal management of the light fixture has been modelled on the advanced systems utilised in the air cooling of superfast computer processors. The technology dissipates heat using a '3D' circulation between the fins and the front and rear of the fitting. Effectively the arrangement maintains a low operating temperature whilst maximising the light output of the light source and ensuring the longevity of the LED.
"Since the launch of our LED lighting division, we have benefitted from our 26 years as a semiconductor business. Primarily, this has been in sourcing quality products, at a keen price and delivered through highly responsive distribution channels. We are now witnessing a growing cross-over of innovation between IT and the solid state lighting industry – which is the future of LED." commented Jesús Miranda, Senior Product Manager at Integral LED.
The Integral 4Kg provides the equivalent illumination levels of existing high bay HiDs and are designed specifically with retrofit projects in mind. The cost benefits are twofold. A switch from existing metal halide lights to LED immediately delivers savings from the moment they are installed. For instance, a typical high powered 400W HiD unit replaced with a 240W "4Kg", delivers the same illumination at almost half the power. Hence, a typical warehouse converting 50 existing HiDs to LED can generate savings of circa £5,000 per annum, a 40% cut to lighting overheads.
The secondary benefit is particularly relevant to high ceilings and the very real cost of maintenance where elevated access is required. Conventional metal-halide lamps have an average life of 10,000 hours, whilst the Integral LED "4Kg" has a 50,000-hour longevity. The saving in man hours and specialist plant equipment is even more significant in these times of stringent cost control. Importantly all models within the range are dimmable (1-10V) which make the units ideal for lighting control systems including phasing, fading and light harvesting control programmes to make schemes even more frugal.
The "4Kg" family of suspended circular High Bay luminaires includes a range of outputs from 12000, 18000 and 26200 lumens at a light efficacy of up to 120 lm/W and choice of 50° and 110° beam angles. Enough variety of lamp specification to tackle even the most intricate lighting scheme within retail and corporate spaces. The lightweight feature of the 4Kg is also ideal for the period and historic buildings where low load bearing timber roof beams require a lighter fixture.
"Our 4Kg High Bay range is versatile, can be connected to industry standard movement sensors as well as daylight harvesting sensors to further expand the energy saving. These key efficiency features plus the good looks of the range mean that Integral High Bay luminaires are destined to impress building managers throughout industry, as well as creating a stir among the retail and interior design community too," concluded Jesús Miranda.
About Integral
Integral supply a wide range of over 300 LED products available to trade and retail customers including a comprehensive range of LED lamps, strips, panels, downlights and luminaires.
Integral apply stringent quality control to its LED products that is especially crucial to manage the fast-moving LED sector. All components are selected from manufacturers with high standards exhibiting good design and quality. Additionally they demonstrate a competitive edge through a true advance in technology. Integral LED's emphasis.
Contact:
Stephen Thomas - for Integral LED
E-mail:
Web site:
Locate more LED lighting vendors in the LEDs Magazine Suppliers Directory

Submit new products, case studies/projects, and other press releases at http://www.ledsmagazine.com/content/leds/en/addcontent.html.

More from Integral LED:
Integral LED moves to consolidate rapid entry in LED lighting business with senior sales
Integral LED launches Metropol LED downlights to simplify new installations and conversions