B Light offers cylindrical LED luminaire designed by Stefano Dall'Osso
Feb 5th, 2015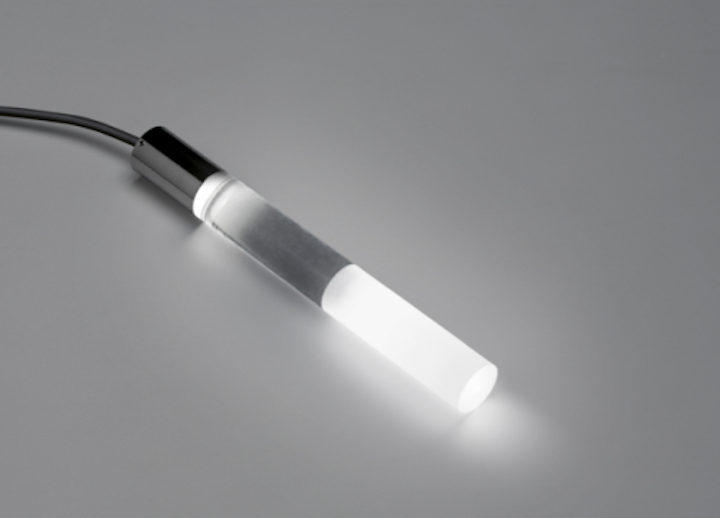 For B Light, a lighting company based in Friuli, the lighting designer Stefano Dall'Osso developed Scacciaspiriti, a ceiling-mounted luminaire with power LED on aluminum printed circuit board able to exalt the search for beauty and the need to light the environment, both indoors and outdoors, through a general and diffuse light.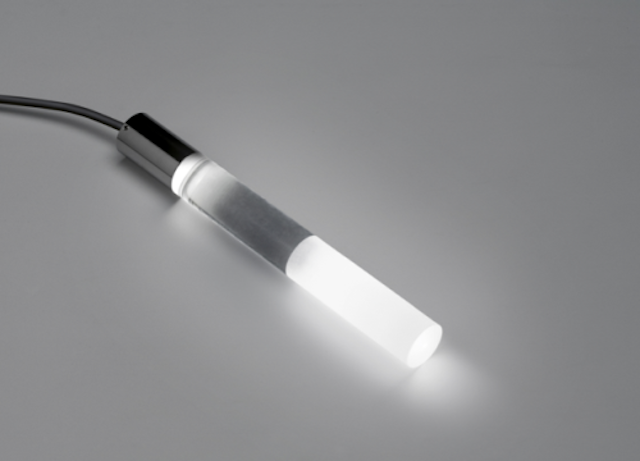 B Light offers cylindrical LED luminaire designed by Stefano Dall'Osso

The light beam that filters through the cylindrical structure made of satinized PMMA creates an extraordinary scenographic effect, thus making the light play the role of a fundamental element of decor that stirs true emotions.

This extraordinary cylindrical element of light is installed through a ceiling fixing support, has a life of 50.000 hours and is manufactured with the best constructive technology on the market (aluminum milling, turning and PMMA); it is possible to check the operating temperature with an electronic control and its dimming can be adjusted through a control unit. This possibility to modify the luminous intensity as needed allows changing the colour rendering from a warm to a neutral white.

This ceiling-mounted luminaire by Stefano dall'Osso is able to exalt the purity of light, exceed it in speed and create living environments thanks to the capacity of its light beam to arouse emotions and feelings.

Technical data:
Dimensions: diameter 30 mm, height 75/100/150/250/450/650 mm
Shape: cylindrical
Class of insulation: III
Degree of protection: IP67
Light source: 1 power LED on aluminum printed circuit board
Power: 2 W
Power supply: 24 Vdc with parallel connection

STEFANO DALL'OSSO BIOGRAPHY
Born in Fermo, in the Marche region, in 1963, when he was a child, he dreamt of becoming anything but a Lighting Designer. It always happens that way. But at that time there were not even proper technological conditions to think about doing this job - which has a lot in common with technology. One day, something turned on inside of him, and after that he had no doubts: he would become a Lighting Designer. Everybody has his own enlightenment, after all. He began as a Lighting Promoter for a company in the Lombardy region. This was in 1986, when the Centre of Italy was moving towards the North. After four years, a company in the Marche region, world leader in lighting, hired him to deal with consultancy and technical assistance, design and promotion. That was a wonderful experience. In 1994, he was employed in the "lighting" commercial department of a company in Porto San Giorgio, and later became a partner. In the region where he lives, the Marche region, opportunities in this field were growing day by day. In 1997, he became manager of the lighting design department of a commercial group in Macerata. After only four months he inaugurated an efficient Lighting Division. That was an effervescent period in which light was both technique and culture. In 2000, he set up his own business dealing with consultancy, design and work supervision of lighting systems. The office has grown rapidly, but not hastily: the internal collaborators have increased in number; clients today form a long and international list. Besides the main office in Fermo, Stefano Dall'Osso can also boast an office in Malta and one in Dubai. Those who work with light can never be pessimists.
Contact:
Stefano Dall'Osso Lighting Designer
Web site:

www.stefanodallosso.it

Submit new products, case studies/projects, and other press releases at http://www.ledsmagazine.com/content/leds/en/addcontent.html and http://www.ledsmagazine.com/content/leds/en/iif/add.html.