EYE Lighting introduces Aphos Mini Series LED luminaires for parking garages and other rugged applications
Feb 11th, 2015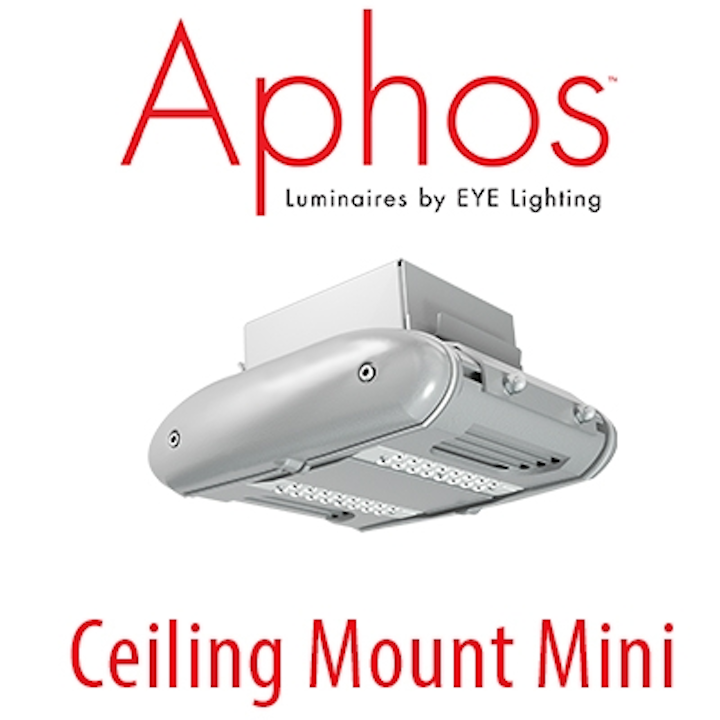 Affordable, Rugged Aphos Mini is Ideal for Ceiling, Wall and Area Mounting

Mentor, Ohio – EYE Lighting International, a leading manufacturer of lamps, luminaires, controls and related lighting systems, has announced a new member of its Aphos™ family of LED luminaires- the Aphos Mini Series. The EYE Aphos Mini Series is affordable, rugged and versatile- suitable for a variety of applications needing bright, white light including parking garages, canopies, warehouses, facades, and similar settings.
Aphos Mini 39W LED Luminaires deliver 3,000 lumens in Type II, IIA, III, and V configurations. It has IP65 rated optics, and an IP67 rated driver for protection against water, insects and dirt. Customers may select either 4000K or 5000K color temperatures, with 70 CRI. Five different powder coat color finishes are available.
EYE Aphos Mini Luminaires feature a patented, dynamic airflow thermal design which draws heat away from the LED array, allowing cooler operation and longer life. The circuit design is smart, with over-protection, voltage protection, and current protection. The driver power factor is >0.9 at 95% efficiency and provides protection against surges and transient voltages. Aphos Minis are ETL Listed and many models are DLC Qualified.
For more information on the EYE Aphos Mini Series, including the 5-year warranty, please contact EYE Lighting at 888-665-2677, or go to www.eyelighting.com.
About EYE Lighting International
EYE Lighting International is a leading provider of lighting products with 23 years of innovation in lighting technology. EYE Lighting manufactures technically superior products featuring solid-state LED luminaires and High Intensity Discharge (HID) lamps. The products are specified by lighting designers, utilities, municipalities, lighting management and energy service companies, and are used in commercial and industrial applications and for sports and infrastructure lighting. EYE Lighting's products provide superior quality, reliability, excellent color rendering and long-life. Every day satisfied customers use EYE-brand products to reduce energy use, reduce maintenance costs, and meet their sustainability goals. www.eyelighting.com
Contact:
Rob Freitag, VP, Marketing - EYE Lighting
+1-440-358-4708