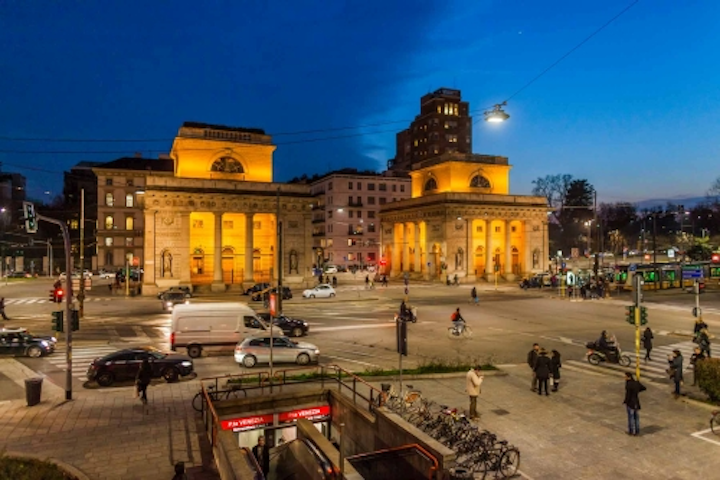 World Fair 2015: Milan is the first Italian metropolis with LED light

On the occasion of the forthcoming World Fair, Milan has taken the decision to become the first major Italian city to upgrade its road lighting to LED technology. The majority of over 140,000 luminaires were produced by the Italian luminaire manufacturer AEC Illuminazione and are equipped with the modern Optotronic 3DIM light management system from Osram.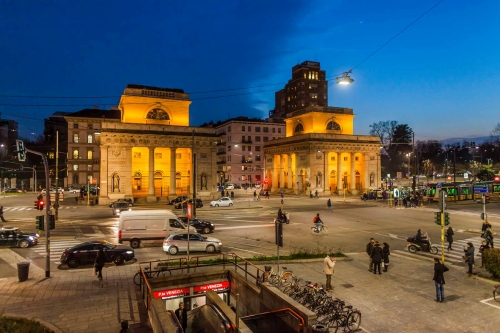 Osram lighting control system supports LED retrofit in Milan
With the AstroDim functionality with modern light management system from Osram, an intelligent street lighting illuminates Milan's famous boulevards and plazas (The picture shows the Bastioni di Porta Venezia). Picture: Osram

The new installation consumes less than half the power of the previous solution. "We're proud to accompany the city of Milan on its path towards an energy-efficient future with our pioneering technologies," said a highly pleased Geert van der Meer, CEO of the LED Lamps & Systems business unit at Osram.

With this major application in Milan, so-called AstroDim functionality is now being used for the first time on a large scale in Europe. AstroDim enables the control unit to implement control of light during the night. As a consequence, intelligent street lighting has now also gained a foothold on this continent.

"The most important reasons clearly indicated that specifying this Osram product was the right choice – reliable overvoltage protection, a wide functional diversity and easy installation being just some of these," stated Alessandro Cini, CEO of AEC Illuminazione.

"A further essential advantage of our control units is their high flexibility, enabling such larger projects to be optimally equipped", explained Hannes Wagner, Osram's technical supervisor for the project.

The device already complies with all forthcoming specifications of the "Eco Design of Energy Using Products" EU directive, is suitable for future LED generations, and enables optimum control of LEDs even at especially low or high temperatures. The impeccable Italian design of the new LED luminaires enriches Milan's famous boulevards and plazas even in switched-off state, and when switched on the luminaires emit brilliant light for ideal visual conditions and simultaneously high energy savings. In total, Milan is expecting a 52% cut in power consumption by refurbishing to LED technology, and a good part of this will be made possible thanks to modern Osram drivers, supplying electronically stabilized direct current with maximum efficiency levels.

The high overvoltage protection of the device is best in class – to a maximum of 6 kilovolt with insulation classes I and II. Values of up to 8 kilovolt overvoltage protection are even achieved with the now available 4DIM successor model. The unit features high resistance to adverse weather, insects and vibrations thanks to a plastic housing, and has been designed for a lifespan of 100,000 operating hours.

Osram has maintained business relationships with Italy for many years, and also masterminded the implementation of the new lighting solution in the Sistine Chapel. The installation consists of 7,000 LEDs and sets standards in terms of quality of light and energy efficiency. Osram also finalized its takeover of Clay Paky in the fall of 2014, a leading entertainment lighting provider based in northern Italy.

About Osram
Osram of Munich, Germany is one of the two leading light manufacturers in the world. The company's portfolio covers the entire value chain from components – including lamps, electronic control gear and opto semiconductors such as light-emitting diodes (LED) – as well as luminaires, light management systems and lighting solutions. OSRAM has around 34,000 employees worldwide and generated revenue of more than €5.1 billion in fiscal 2014 (ended September 30). The company's business activities have been focusing on light – and hence on quality of life – for over 100 years. The company was listed on the stock exchanges in Frankfurt and Munich on July 8, 2013 (ISIN: DE000LED4000; WKN: LED 400; Trading symbol: OSR).
Contact:

Osram Ltd
+44-(0)1753-484163
E-mail:

Website:

www.osram.com

Locate more driver & controls vendors in the LEDs Magazine Suppliers Directory

Submit new products, case studies/projects, and other press releases at http://www.ledsmagazine.com/content/leds/en/addcontent.html and http://www.ledsmagazine.com/content/leds/en/iif/add.html.