Havells Sylvania's contemporary Lumiance Inverto LED luminaires update London offices
Jan 21st, 2015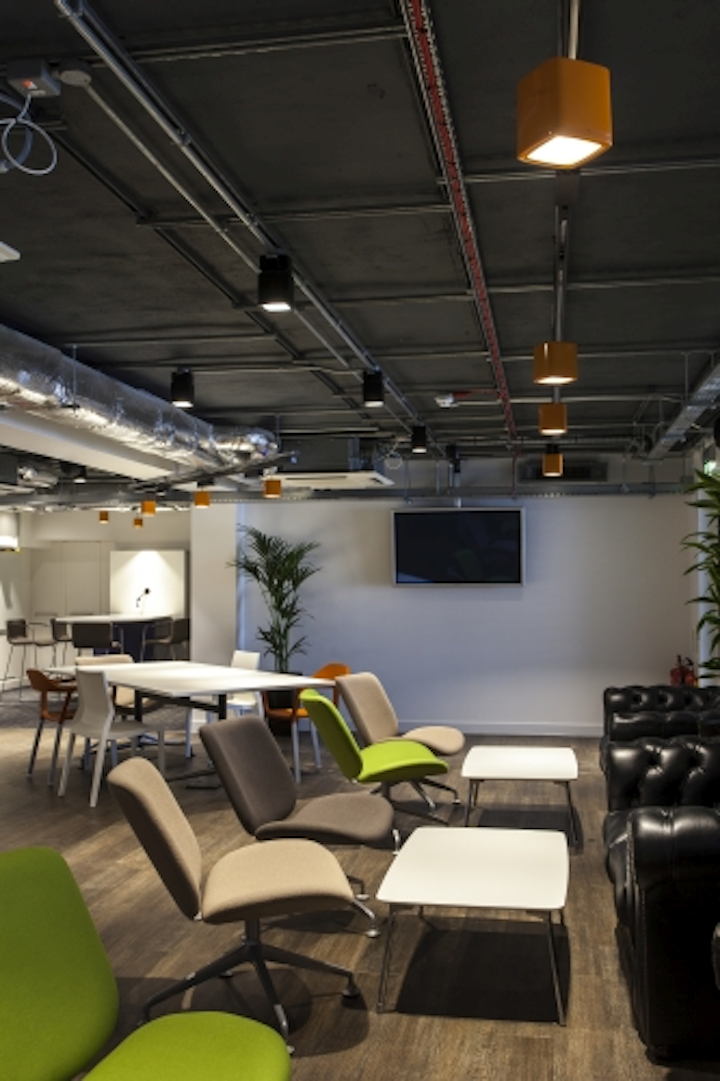 25 North Row, an office building in the heart of London's Mayfair, has recently undergone a complete refurbishment programme in order to modernise and update its 1980s appearance. Thanks to a number of Lumiance InVerto luminaires the basement space has been totally transformed into a stylish, modern and vibrant area.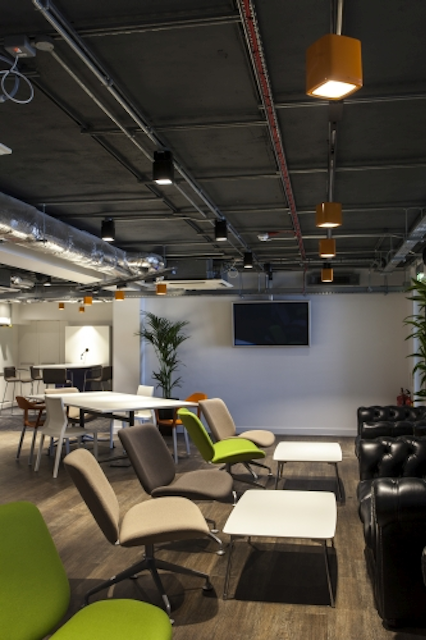 Havells Sylvania's contemporary Lumiance Inverto LED luminaires update London offices

Paragon Management carried out the interior fit-out for the project whilst Londonguild Ltd Electrical Contractors undertook the lighting design and electrical installation for the whole building. A new contemporary façade was created to fit with the other buildings in the area and the whole internal space was renovated.

In the basement, London Guild Contractors installed around 50 Lumiance InVerto luminaires which were ceiling-mounted, wall-mounted and also hung as pendants. Inverto fitted the bill perfectly as Londonguild Ltd Electrical Contractors could use one family of products in different positions, colours and installation formats.

"The basement has a relaxed, fresh feel and we wanted that atmosphere to be reflected in the lighting we selected," comments Jonathon Boy of Londonguild Ltd Electrical Contractors. "The Lumiance InVerto was ideal because of its contemporary design and various colour and siting options."

InVerto has four models within the range – direct/indirect, direct, surface mounted and pendant – and thanks to the clever engineering it benefits from an integrated heat sink, driver and components to ensure it keeps its sleek design. The standard colour options include matt white, gloss black, satin silver and matt rust but it can be created in all manner of colours. For example, 25 North Row features gloss orange black versions. This allows for full customization and creation of a truly bespoke interior design.

With its rugged IP65 compliant construction, InVerto can be used in both inside and outside applications, ensuring continuity of design across the lighting scheme. The LED technology means InVerto is a maintenance-free, energy efficient luminaire which has more than 50,000 hours of life, which helps compliance with the new Building Regulations.

Over the eight floors of office space, 400 Concord Officelyte LED luminaire were also installed. The Officelyte LED meets both the energy performance requirements of Part L2A of the Building Regulations and the workspace lighting quality standards laid out in the newly-published EN 12464-2011. Featuring a slim recess depth of just 95mm and a fully enclosed design, the Officelyte LED Low Profile includes a typical rating of 90 luminaire lumens per circuit watt and up to 100% LOR, making it one of the most efficient luminaires available on the market in its class. The enclosed design reduces dust ingress and improves Luminance Maintenance Factor (LMF) and its slot in wing design allows for quick and simple installation, maintenance and cleaning.

Featured within the toilets, 40 of Concord's Myriad LED offer 25 North Row an extremely efficient light source with far superior luminous flux per watt than low voltage halogen. The Lumiance Lumistrip has also been used under cupboards in kitchen areas on each floor to provide decorative lighting.

For more information please visit www.lumiance-lighting.com.

About Lumiance from Havells-Sylvania
The Lumiance brand is part of the Havells-Sylvania Group. Founded in 1934 in the Netherlands, Lumiance is synonymous with 'ease of installation' making it the contractor's first choice for timeless design, outstanding functionality and safety. The Lumiance comprehensive product range is designed for use in professional interior and exterior applications such as shop lighting, offices, public & residential buildings, hotels and restaurants throughout the world.

Formed in April 2007, Havells-Sylvania is owned by Havells India Ltd, a US$ Billion plus company. With 94 branches and representative offices worldwide, and over 8000 employees working in more than 50 countries; Havells has grown rapidly since its humble beginnings in Delhi in 1958. Havells has eighteen manufacturing plants in India, Europe, Latin America and Africa; producing globally acclaimed products, including: switchgear, cables, wires, luminaires and lamps.

Havells-Sylvania is a leading, full-spectrum provider of professional and architectural lighting solutions. Built on over a century of expertise in lamps and luminaires, Havells-Sylvania supplies state-of-the art products and systems to the public, commercial and private sectors, worldwide. Havells-Sylvania strives to deliver the finest products, service and consulting possible. All over the world, people rely on group companies: Concord, Lumiance and Sylvania, for top quality, energy-efficient solutions to suit their individual lighting needs.
Contact:

Havells Sylvania Europe Ltd
+44-0207-011-9700
Web site:

Submit new products, case studies/projects, and other press releases at http://www.ledsmagazine.com/content/leds/en/addcontent.html and http://www.ledsmagazine.com/content/leds/en/iif/add.html.