Diamond Vision IDT4 dazzles visitors to ISE 2007
Feb 8th, 2007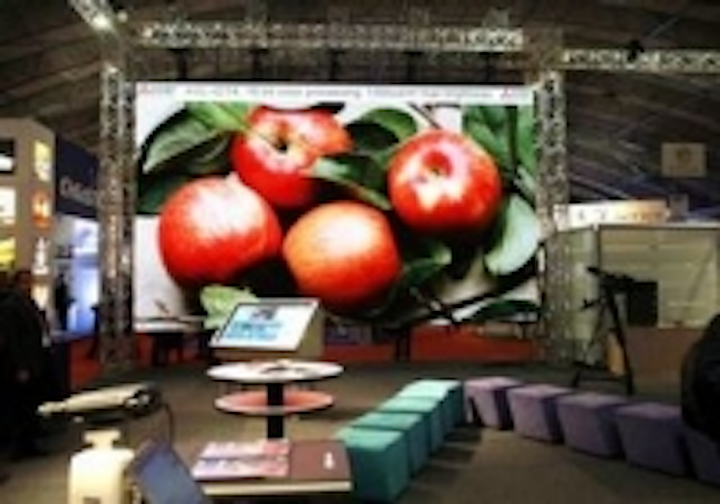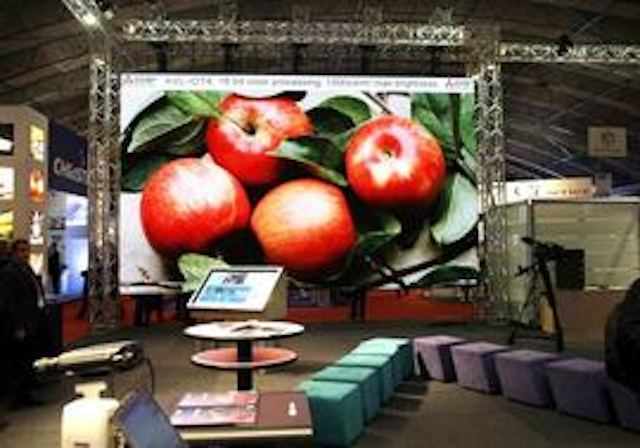 Date Announced: 08 Feb 2007
In an industry used to spectacle, it's not often that hardened AV professionals get stopped in their tracks by a display product. But that's exactly what happened when Lang AG unveiled its brand new Mitsubishi Diamond Vision™ screen at ISE 2007.
Arguably the finest quality rental LED screen currently available in the world, Lang's new IDT4 high definition display proved to be a real show-stopper. Such was the resolution and clarity of the 35m² screen, that many visitors commented that they had found it difficult to believe at first that they were looking at an LED display.
Lang, Europe's leading dry-hire and AV sales company, took delivery of its new Mitsubishi Electric high resolution indoor screen system just prior to the ISE show. Delivering full native HD performance (1,920 x 1,080 pixels), the 4.00 mm pixel pitch Diamond Vision™ IDT4 joins the company's rental fleet, where it will be employed in a wide range of applications – the first of which will be at the Geneva Motor Show next month.
Tobias Lang of Lang AG, specialist suppliers of high-end AV technology, believes that the superb performance of the IDT4 system will allow it to be employed in many more applications than has traditionally been the case for LED screens: "The IDT4 is a great choice for use at exhibitions because of the excellent image quality, high brightness and close viewing distance," explained Tobias Lang.
"Its modular construction also means it can be very flexible in this kind of role," he commented, adding, "But we also see applications for high resolution LED screens in the TV or corporate event sector, where previously the only option might have been cubes or projection."
He continued, "IDT4 delivers superb colour performance and resolution, is unaffected by ambient or stage lighting and does not require projection space either in front or behind the screen."
The mechanical design of the IDT4 modular system makes installation simple and straightforward, with none of the alignment problems found in some other high-resolution LED screen systems. At only 28kg, IDT4 modules are easy to handle and can be stacked or hung as required.
The IDT4 screen is based on 3-in-1 surface mount LEDs with true 4.00 mm pixel pitch. Each module delivers a resolution of 24,576 pixels. Thanks to this high resolution, the minimum viewing distance is just one metre. A wide viewing angle of up to 150 degrees horizontal and 120 degrees vertical means even off-axis viewers experience excellent screen uniformity, image quality and true-to-life colors. Colour Space Conversion, a technology developed by Mitsubishi, allows individual adjustment of each colour independently of the others, for completely natural shades and nuances. Contrast is also exceptional; reproducing dense, noise-free blacks and performing superbly in high ambient light conditions.
High definition Diamond Vision LED screens have already enjoyed considerable success in the European installation market; the 19m2 3.00mm pitch native HD screen installed in Deutsche Telekom's Bonn headquarters being a notable recent example.
Following its European rental debut at ISE 2007, Diamond Vision IDT4 sets a similar benchmark for screen quality in the hire business, and is already creating high levels of interest in LED as an attractive alternative to cube displays or projection in broadcast, corporate or exhibition applications.
Contact
Diamond Vision Russell Hartwell Sales Manager – Diamond Vision LED Mitsubishi Electric Europe B.V. Traveller's Lane, Hatfield, Hertfordshire, AL10 8XB, England Tel +44 (0) 1707 276100 Lang Audiovision AG Sebastian Henke Schlosserstraße 8 51789 Lindlar Phone: +49 2266-4764-72 fax: +49 2266-4764-920 homepage: www.lang-ag.com Mitsubishi Electric Germany - Press Enquiries BMZ+more GmbH & Co. KG Susanne Moser Schirmerstraße 76 40211 Düsseldorf Phone: +49 211-1781-705 fax: +49 211-1781-749 homepage: www.mitsubishi-evs.de Press release issued in the UK by EIDO Public Relations
E-mail:news.release@eido-pr.eu
Web Site:www.mitsubishi-evs.de