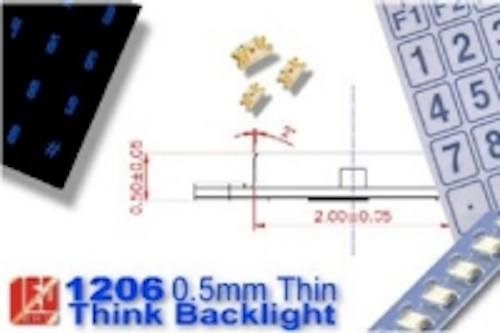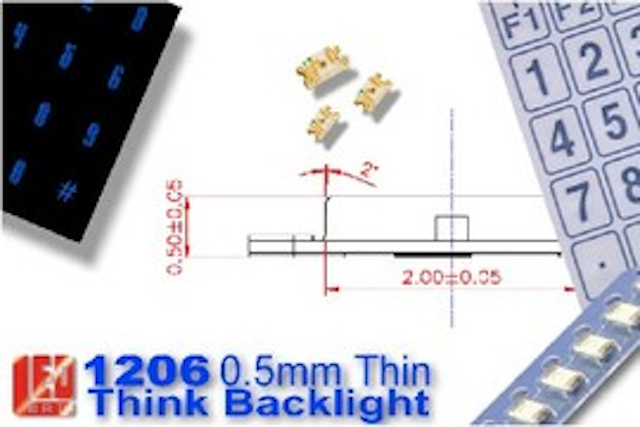 Date Announced: 23 Feb 2007
American Bright Optoelectronics Corporation announces the introduction of a 0.5mm Thin Low Profile 1206 SMT LED Family
American Bright introduces the industry's lowest profile 1206 SMT LED ideally suited for applications where low profile and high brightness are desirable.
Chino, Ca. February 23, 2007 – American Bright Optoelectronics announced today the introduction of a full line of low profile 1206 SMT LEDs. This new family is ideally suited for backlighting membrane style keypads, automotive instrumentation, legend illumination and miniature indication in a wide range of consumer, industrial and automotive applications. The new series is 100% RoHS compliant and compatible with industry accepted lead free processes.
This offering will compliment American Bright's existing 0603 low profile series that has been available since 2001. The BL-Hxx3Q series measures only 0.5mm (0.020") thick providing new design flexibility to engineers and designers faced with the challenges of maintaining a minimum overall device thickness. The series is available in a wide range of visible colors from 460nm blue through 700nm red, as well as IR wavelengths ranging from 850nm – 940nm, allowing designers a wide pallet from which to chose from. Brightness levels can be specified by bin code allowing for unit-to-unit uniformity.
"American Bright believes that the addition of a low profile 1206 will give designers greater freedom," commented George Lee, American Bright Optoelectronics President and CEO. "The challenges of today's hand held and portable instrumentation demanded a solution such as our new 0.5mm thick SMT LED."
The new series is available on 3000 piece reels, with smaller quantities for prototyping and development available by special request. Pricing starts as low as $30.00 per thousand for part number BL-Hxx 33Q-TRB. Please contact the factory for further information toll free at 1-888-533-0800, or visit American Bright online at www.americanbrightled.com.
About American Bright Optoelectronics
American Bright Optoelectronics is a subsidiary of Taiwan-based Bright LED Electronics Corporation, a recognized leader in the research, engineering, manufacturing and marketing of LED components to major markets worldwide. Formed as the marketing organization for the Americas and Canada in 1995, American Bright has enjoyed sustained growth while introducing several innovations to a wide variety of markets.
Conscious of their global responsibility to the environment, the majority of products are produced with lead-free, RoHS compliant materials and processes. Bright LED Electronics and American Bright Optoelectronics are ISO9001:2000; ISO 14000: 2004 and TS16949 certified.
For more information or to receive a catalog, contact American Bright Optoelectronics Corporation, 13815-C Magnolia Ave., Chino, CA 91710. Tel: (909) 628-5050, Fax: (909) 628-5006. Toll Free (888) 533-0800. e-mail: info@americanbrightled.com. Website: www.americanbrightled.com.
Contact
For Further Information: Agency Contact: Clear Point Technical Marketing (719) 687-9814 anthony@cptmi.com American Bright Optoelectronics, Corp. Technical/Management Contact: Steven Chen (909) 628-5050 stevenc@americanbrightled.com
E-mail:anthony@cptmi.com
Web Site:www.americanbrightled.com