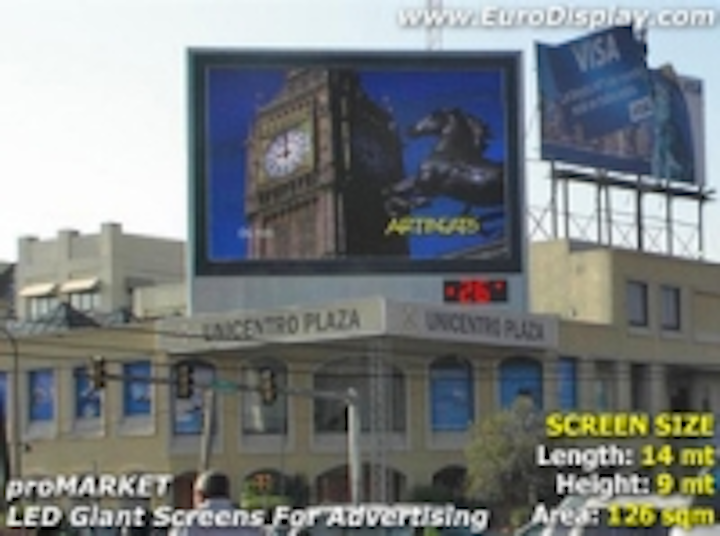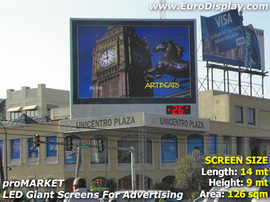 Date Announced: 05 Feb 2007
Finally! The Biggest Giant Screen Of South America (14 x 9 meters!) have been turned on yesterday Monday January 29th 2007 at 11h37 in Santo Domingo, Dominican Republic.
The only comment we got in the email with the first pictures was "Aquí Todas La Jente Sta Encantada!" which, for those who dont understand Spanish, means "Here All The People Are Delighted!"
In the past few days, while walking around Euro Display facilities, you could feel the trepidation - as everybody was waiting for The Announcement.
When finally Simone (one of our technicians on site in Santo Domingo) called us to report the good news, Everybody Was Aestatic.
All the efforts described in my previous article called Epic Ledwalls - posted December 14, 2006 - finally resulted in the installation of One Of The Biggest Giant Screens In The World!
Which we are Very Proud Of.
I personally talked with our Customer over the phone to ear from his voice what was his impression. His Happiness And Satisfaction paid me back for all the hard work and committment that our entire team did in the past few months.
I realized that this is the reason why I love my job. This is the type of recognition you need to boost your motivation and Try Even Harder Tomorrow to create the Best Product and provide the Best Service you possibly can.
The voice of an amazed Customer is What Really Keep Us Going On with our 360° innovation.
In this occasion, I would like to publicly thank the entire Artbeats team (www.artbeats.com/) for providing us the Wonderful Footage and for the Incredible Support they provided to us. For such a High-End Venue we needed the Best Content we could find and we didnt have a single doubt when we chose Artbeats.
I will post a video (or two) in the next few days, so stay tuned to watch The Biggest Giant Screen Of South America in action!
Contact
Fabio Aversa is Marketing Manager at Euro Display Srl, manufacturer of LED Walls, Giant Screens and LED Displays and author of the FREE ebook How To Make Money With Your LED Giant Screen In 7 Easy Steps

E-mail:editor@eurodisplay.com
Web Site:www.EuroDisplay.com