Daktronics LED displays dazzle Super Bowl XLI at Dolphin Stadium
Feb 6th, 2007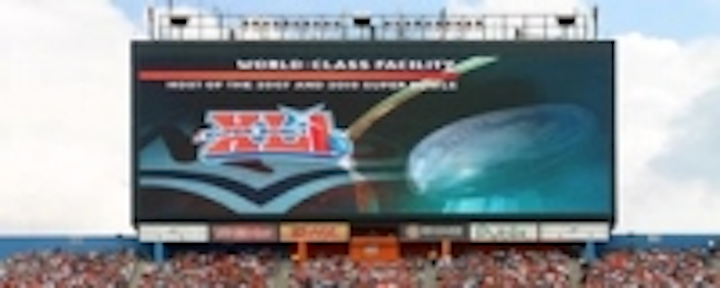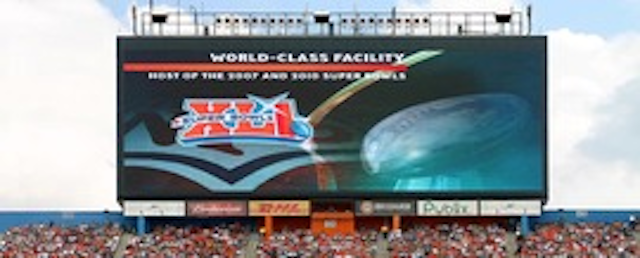 Date Announced: 06 Feb 2007
BROOKINGS, S.D. – The 2007 Super Bowl was a success by all measures. The more than 74,000 fans that attended the game at Dolphin Stadium enjoyed great football and incredible half-time entertainment. The game and other events during the week were enhanced by an integrated Daktronics (NASDAQ-DAKT) scoring and video display system installed prior to the start of the 2006 NFL season.
Dolphin Stadium is the only NFL venue to date to install true high definition video replay screens. The venue has not one, but two huge Daktronics HD LED (light emitting diode) displays, one behind each end zone. The east display measures a whopping 50 feet high by 140 feet wide. The west end zone display measures approximately 50 feet high by 100 feet wide. In addition, Dolphin Stadium is perhaps the only outdoor sports venue in the world to incorporate a full, 360-degree fascia display that completely circles the seating bowl. More than nine million individual red, green and blue LEDs populate the three displays, making the high definition imagery possible.
"We are very excited to host the 2007 and 2010 Super Bowl games at Dolphin Stadium and to be able to enhance the guest experience at this world-class showplace with the help of Daktronics," said M. Bruce Schulze, President of Dolphin Stadium. "The two high definition video displays from Daktronics, along with the Daktronics fascia display, played key roles in providing our guests with an amazing Super Bowl experience. We are extremely happy with the Daktronics system."
Al Messerschmidt, a professional sports photographer agrees. Messerschmidt's keen eyes and experience as a professional photographer give him a unique perspective on the subject of image resolution. "I've traveled throughout the country for years, covering NFL games and other sporting events," Messerschmidt said. "I've seen Daktronics systems at many venues, and have always been impressed with their work. I am really amazed at the clarity of the high definition boards at Dolphin Stadium."
Daktronics systems have played important roles in past Super Bowl games as well. Detroit's Ford Field, host of the 2006 Super Bowl, and Alltel Stadium in Jacksonville, host of the 2005 Super Bowl, both count on Daktronics super systems for fan enhancement and entertainment. NFL venues in Glendale, Ariz., and Tampa, Fla., hosts of the 2008 and 2009 Super Bowl games respectively, already use Daktronics super systems. The 2010 Super Bowl game will return to Miami's Dolphin Stadium, the tenth Super Bowl to be hosted by South Florida.
Daktronics recently announced a significant video display upgrade for the Pittsburgh Steelers in Heinz Field, which will utilize its new HD-X technology. Daktronics HD-X LED video displays, available in a wide variety of sizes and configurations, represent a new generation of large screen technology. The product line features a number of industry advances including a high-density pixel layout, improved contrast levels and enhanced viewing angles. For more information on the latest HD LED technology, visit http://www.daktronics.com/hd.
About Daktronics
Daktronics is recognized as the world's leading provider of full-color LED video displays. Daktronics began manufacturing large screen, full-color, LED video displays in 1997. Since then, over 3,000 ProStar® and ProAd® displays have been sold and installed in sports, entertainment and commercial facilities around the world. Since 2001, independent market research conducted by iSuppli Corp. lists Daktronics as the world's leading provider of large screen LED video displays.
Daktronics has strong leadership positions in, and is one of the world's largest suppliers of, electronic scoreboards, computer-programmable displays, digital billboards, large screen video displays and control systems. The company excels in the control of large display systems, including those that require integration of multiple complex displays showing real-time information, graphics, animation and video. Daktronics designs, manufactures, markets and services display systems for customers around the world, in sport, business and transportation applications.
Contact
Daktronics (605) 697-4300 or toll-free (800) 325-8766
E-mail:sales@daktronics.com
Web Site:www.daktronics.com