austriamicrosystems launches fully integrated 700mA flash LED driver
Feb 19th, 2007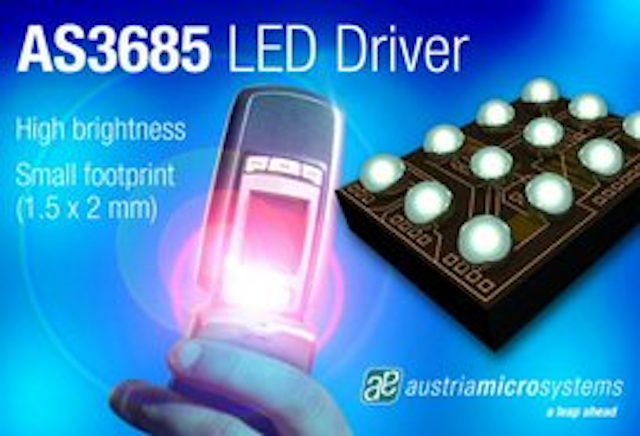 Date Announced: 19 Feb 2007
austriamicrosystems (SWX: AMS), a leading global designer and manufacturer of high performance analog integrated circuits (ICs) for industrial, medical, communication, and automotive applications, has launched the AS3685, an ultra-small, safe, simple and fully integrated 700mA charge-pump-based flash LED driver.
The AS3685 is the world's smallest fully integrated charge-pump based flash LED driver offering 700mA flash current and is targeted at camera flash applications in mobile phones. Almost 50 percent of today's mobile phones offer cameras, a level predicted to grow to as much as 80 percent by 2010. An increasing number of these camera phones are equipped with flash LEDs. As the resolution of image sensors is expected to exceed two megapixel for mainstream phones in 2007, demand for a strong LED flash to take quality pictures is growing.
Designing LED based flash functions with currents in the 700mA range has a significant impact on power consumption, especially in modern mobile phones which tend to include a wide variety of fashionable but power-hungry features such as video streaming, MP3 or WiFi. The LED driver needs smart power management to stay within the overall power budget, even under the most demanding conditions such as replying to RF signals while taking pictures.
Moreover, the large number of functions in a mobile phone already consumes a significant amount of PCB space, which makes adding a large flash LED and driver a challenge. The addition of these components conflicts with the ongoing trend towards ever-smaller phone designs making actual component size a critical factor.
The wafer-thin AS3685 in a scale package resolves these issues. Measuring only 2x1.5mm and less than 600µm in height, it takes up just 14mm2 of PCB space, including four external components. Following 0.25mm PCB design rules, the AS3685 uses less than 50 percent of the space required by its closest competitor. The only external components that the AS3685 needs are low cost capacitors and resistors. This gives the device an excellent overall bill of material (BOM) and outperforming competing inductive solutions by at least 20 percent.
"Small, safe, simple and cost efficient – these are the main criteria for embedding true flash functionality into camera phones," commented Ronald Tingl, Marketing Manager Mobile Lighting and Power Management at austriamicrosystems. "The AS3685 fulfills all of these needs and offers outstanding BOM at the same time."
Safety in operation is another key requirement for flash LED applications, including low EMI and safe operation under heavy load conditions. Using switched capacitor circuitries to drive large LED currents on the output means pulling high currents from the batteries. The AS3685's smart charge pump architecture avoids large spikes at the battery terminals, providing significantly better EMC performance than comparable products.
To avoid excessive current being drawn from the battery if the phone's power amplifier becomes active while a picture is being taken – a situation potentially causing the phone to shut down due to a related voltage drop – the AS3685 can reduce the flash current to the significantly lower flash current within less than a microsecond. This prevents dropped calls without compromising photo quality.
Other safety features include a built-in flash LED time-out function that guarantees flash shutdown via a built-in factory-programmable timer, typically 800ms. This prevents the destruction of the LED or damage to the mobile phone from excessive heat produced by the LED.
Using the AS3685 is simple and straightforward. It comes with a multi-mode, simple 2-pin interface incorporating off, indicator, flashlight and flash operating modes. The AS3685B product variant features a single-wire interface allowing the flash current to be set in any of 18 different steps depending on actual operating and environmental conditions. This allows to dynamically reduce the flash current during MP3 playback or at low battery conditions, thereby extending battery life.
The AS3685 is available in WL-CSP3x4 packaging. It is currently in trials and will be released to mass production in February 2007.
Contact
Hannelore Jurosek, Marketing Communications T.+43 3136 500 5995 F.+43 3136 500 5420
E-mail:hannelore.jurosek@austriamicrosystems.com
Web Site:www.austriamicrosystems.com