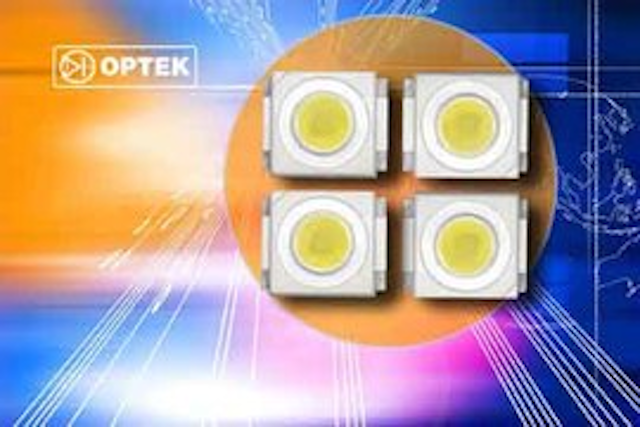 Date Announced: 08 May 2007
NEW YORK, NY (May 8, 2007) – Providing lighting design engineers with an energy-
efficient, high luminance, compact solid-state light source, TT electronics OPTEK
Technology has developed a 0.5W surface mount white LED package. Designated the
OVS5WBCR4 Series, the device features an ultra-low profile of just 1.5mm.
"The exceptional spatial uniformity and full 120° viewing angle make this packaged LED
suitable for both single use and array applications," said Richard Saffa, vice president of
OPTEK Technology's Visible LED Business Unit. "The small size of the OVS5WBCR4
package also allows it to be specified for specialized applications in which larger devices
would not be suitable and where high-power devices are not required."
Applications for the OVS5WBCR4 Series LED package include conventional lighting,
electronic signs and signals, automotive interior and exterior lighting, architectural indoor
and outdoor lighting, and general illumination.
The 0.5W white LED package features a water clear lens and 120° viewing angle. Typical
luminous flux is 21 lumens, with a typical on-axis intensity of 8.5cd and a typical forward
voltage of 3.2V. DC forward current is 180mA, with peak pulsed forward current of
500mA. Power dissipation is 700mW and maximum rated junction temperature is 125°C.
Operating temperature range is -40°C to +100°C. OPTEK also offers optional optics to
suit specific applications where focused beam patterns are required.
The OVS5WBCR4 LED package measures 6mm x 6mm, with a height of 1.5mm.
The OVS5WBCR4 package is compatible with standard Sn/Pb as well as Pb-free reflow
soldering processes.
Typical pricing for the OVS5WBCR4 LED package starts at $1.00 each in quantities of
10,000. Production quantity lead times, if stock is not available, are from 7 to 9 weeks.
For more information on the OVS5WBCR4 surface mount LED package, contact TT
electronics' OPTEK Technology at 1645 Wallace Dr., Carrollton, TX, 75006; call 972-323
-2200, or visit OPTEK on the Web at http://www.optekinc.com/products/VLED_smd.asp.
In Europe, contact JP Delaporte at info@optek-europe.com or call +1-972-323-2333. In
Asia, contact T.H. Swee at thswee@optekasia.com or call +852-9190-4641.
Contact
Janie Haynie, Product Marketing Director OPTEK Technology 972-323-2200 jhaynie@optekinc.com
E-mail:bgaddy@btbmarketing.com
Web Site:www.optekinc.com