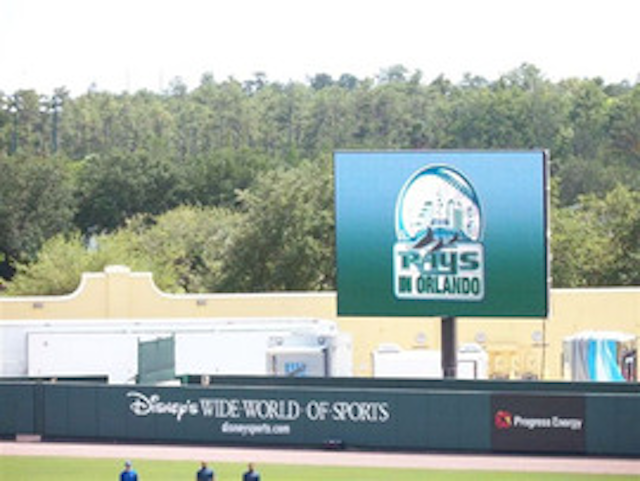 Date Announced: 21 May 2007
Impact Video's 22'h x 30'w Daktronics ProStar Illuminator was on hand at Disney's Wide World Of Sports Complex in Kissimmee, FL, to enhance the Tampa Bay Devil Rays 3 Game Series against the Texas Rangers May 15-17, 2007.
Tampa Bay's three game series was shifted to the popular tourist destination of Kissimmee, Fl and offered the Devil Rays the opportunity to expand its fan base in the central Florida region. The Devil Rays gave fans plenty to cheer about, winning the opener over the Rangers 4-3 in 10 innings, following with an 11-8 victory on Wednesday, and closing the series with a 7-6 win in 10 innings on Thursday.
Impact Video's 22'h x 30'w ProStar Illuminator is the largest truck mounted LED Display in North America. Impact's fleet of Illuminator truck mounted LED displays feature Daktronics ProStar technology that offer superior image quality with respect to brightness levels, depth of color and pixel uniformity. The Illuminator screens can be set up in as little as 60 minutes and are ideal for most outdoor applications that require a high quality screen with limited set up time.
The Devil Rays production team was able to take advantage of the Illuminator's full on-board control room to produce the video board show. Fully equipped with preview monitoring and 8 input switching capability, the Devil Rays were able to seamlessly replicate their in-house production for a temporary installation complete with ESPN Broadcast feed, live cameras, instant replay, video rolls and player statistics.
Impact Video is North America's leading provider of Indoor/Outdoor LED technology and related production services. Impact has over sixteen years experience within the corporate, entertainment, production, retail, sports and outdoor event markets. Impact's reputation for consistently delivering a superior quality of equipment and service has become well known throughout the industry.
Contact
Nina McCarthy Sales & Marketing Coordinator 3088 Clybourn Ave. Burbank, CA 91505 Tel: 818-972-1774
E-mail:n.mccarthy@impactav.com
Web Site:www.impactav.com