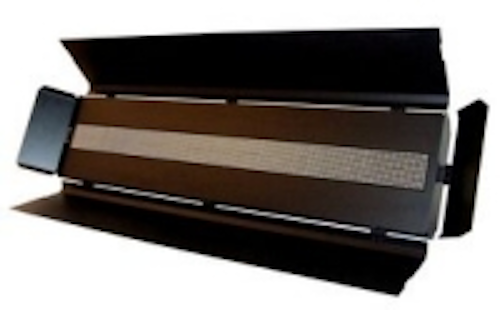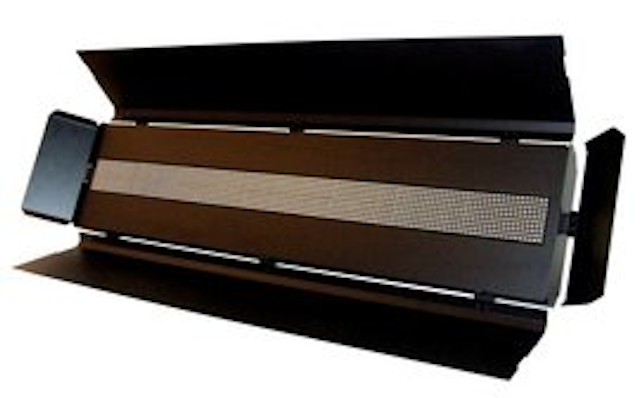 Date Announced: 04 May 2007
AUSTIN, TEXAS -- Element Labs, the award-winning global leader in LED technology, announced today its entry into the film and video market with the debut of two new intelligent LED lighting products, the Kelvin™ series white light fixtures and the Versa® BANK video-mapped lighting system.
[Image shows the Kelvin Bank fixture.]
Well-known in the live entertainment and architectural markets as the innovator of video-controlled LED products, Element Labs is now applying its technology to develop solutions for film and video. Both new products will debut on Element Labs' camera set (booth number SL13409) at the National Association of Broadcasters (NAB) Convention on Monday at the Las Vegas Convention Center.
The Kelvin series LED-based white light fixtures provide unlimited variable color temperature settings, creating a new level of flexibility in lighting. Plus, Kelvin fixtures maintain a color rendering index (CRI) of 95 between 3200 K and 6500 K, resulting in extremely high-quality light. And, unlike traditional lighting products, color temperature remains consistent throughout the full range of intensity variation.
"We're creating a paradigm shift in the world of professional lighting," says Rich Pierceall, Director of Sales and Marketing for Element Labs. "Our Kelvin series will do for film and video lighting what nonlinear editing did for post-production. It will provide an innovative platform for the development of new tools and more accurate control of the lighting environment."
Element Labs' involvement in film and video lighting developed over the past couple of years, starting with the application of its Versa products as video-mapped key lighting on several film projects. This led to the development of Versa BANK: an intelligent LED fixture that combines lighting and video to achieve realistic motion lighting effects.
"We're getting more and more calls from creative DPs and lighting designers looking to apply our technology," says Element Labs Director of Special Projects, Jeremy Hochman. Versa BANK has been proven on major motion pictures, like "Zodiac," and music video productions, like Coldplay's "Speed of Sound" video.
About Element Labs
Element Labs, Inc., headquartered in Austin, Texas with offices in Germany and the UK, is a global leader in design, manufacturing, and support of cutting-edge LED video technology to the entertainment, architectural, and signage industries. Its award-winning products and customized solutions give designers the freedom to innovate and realize their creative visions.
Contact
Isa Flores +1 512 491 9111 ext. 7129
E-mail:isa@elementlabs.com
Web Site:www.elementlabs.com