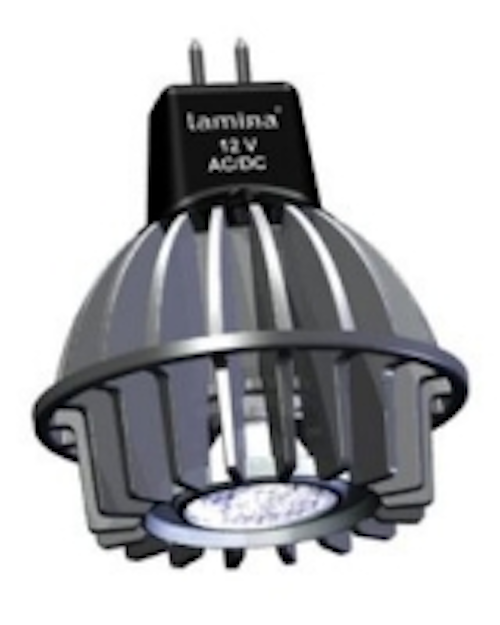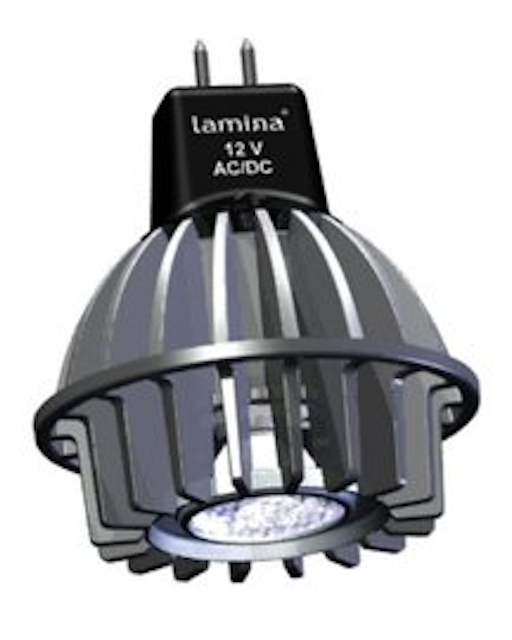 Date Announced: 03 May 2007
Very long-lived Lamina SōL™ MR16 LED offers big energy and replacement cost savings
WESTAMPTON, NJ – May 3, 2007 – Lamina, developer of the brightest commercially-available LEDs, today announced immediate availability of an LED-based replacement lamp designed as a direct, ready-to-plug-in retrofit for 20-watt MR-16 halogen and comparable compact fluorescent lamps (CFLs). The first of its kind, the Lamina SōLTM MR16 LED integrates a high power light source, optical lens and thermal heat sink shell in a traditional MR-16 halogen form-factor. This innovative design, which fits most existing fixtures, produces as much light as the 20-watt halogen bulb it replaces, but consumes less than 8 watts of electricity.
Lamina SōL MR16 LED replacement lamps are designed to provide the quality of light produced by traditional incandescent lamps. Warm color temperatures of 3050°K and color rendition index (CRI) values greater than 80 make these products ideal as halogen replacements. Higher color temperature lamp equivalents of 4700°K are also available. The products will be demonstrated at Lightfair International 2007, May 8-10, in New York City.
Lamina's SōL MR16 LED light engine offers a significant return-on-investment," said Frank M. Shinneman, the company's president and CEO. "With a lifetime of more than 50,000 hours, the energy savings, replacement cost savings of traditional lamps and money saved in labor costs to replace burned out lamps can potentially add up to more than $700 per fixture."
Adding to the value, Mr. Shinneman noted that the Lamina SōL MR16 LED emits no heat (infrared) or ultra-violet radiation in its light beam, is readily dimmable, and contains no mercury (as do fluorescent lamps) or lead. As are all Lamina LED light engines, the SōL MR16 LED is fully compliant with the EU's RoHS Directive restricting mercury, lead, cadmium and other hazardous substances. Pricing is expected to be less than $25 in OEM volumes.
Among many possible applications, Lamina SōL MR16 LEDs are ideal for:
• Track lighting
• General, architectural and landscape lighting
• Display case fixtures & cabinet lighting
• Signage and back lighting
• Aerospace lighting systems
• Industrial OEM equipment lighting
• Bio-medical and medical applications
• Retail sales display
• Elevator lighting
• Cruise ship and yacht lighting
Earlier this month, Lamina introduced new light engines with outputs as bright as many tradi-tional bulbs used in home, office, retail, commercial and exterior applications. The TitanTurbo™ line represents the state-of-the-art in high-output LED light engines. It is immediately available to lighting application designers in 2 models that deliver more than 2,000 lumens in daylight white and more than 1,000 lumens in warm white light. The company demonstrated both ver-sions to much acclaim in Milan, Italy, at Euroluce, Europe's premier lighting show. Along with Lamina's SōL MR16 LED, TitanTurbo also will debut in the U.S. at Lightfair.
All Lamina LED light engines are manufactured by combining high brightness LEDs from in-dustry-leading LED manufacturers with the company's own proprietary packaging technology. This technology is a breakthrough in thermal performance for LED packaging, a key factor in determining LED life and reliability. Unmatched thermal performance coupled with package in-terconnectivity allows Lamina to densely cluster multiple LEDs to achieve exceptionally high luminous intensity in very small footprints.
Lamina also provides unmatched integration support. Experienced sales application engineers, knowledgeable in LED design integration, optics, thermal management and electronics are just a phone call away.
About Lamina, Inc.
Lamina, Inc. defines the state of technology with the development and manufacture of high power LED light engines. Lamina's LED packaging technology provides unsurpassed thermal management and interconnectivity.
Lamina is the leading manufacturer of high power LED light engines and is leading the transition from traditional lighting such as incandescent, halogen and mercury vapor fluorescent to solid state solutions for general lighting. Lamina offers the brightest solid state light engines in the in-dustry and is enabling this lighting evolution by delivering highly reliable and functional LED lighting solutions. The company is supported by an industry-leading global sales and distribution network.
Contact
Dan Polito 609-265-6802
E-mail:dpolito@LaminaCeramics.com
Web Site:www.LaminaCeramics.com