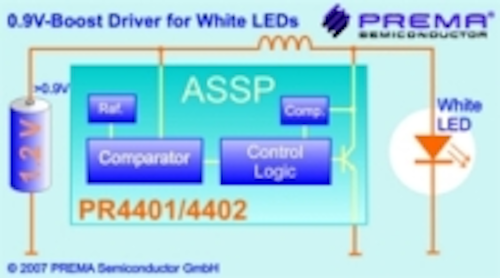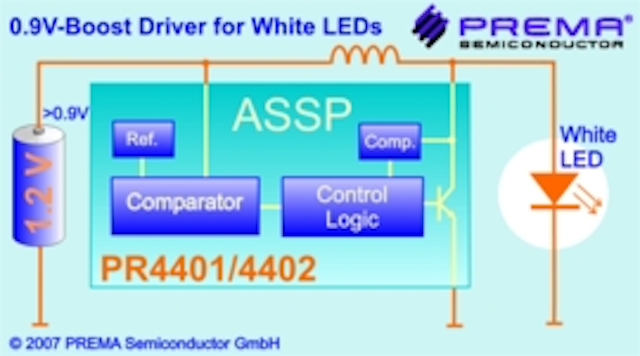 Date Announced: 24 Apr 2007
With PR4402 PREMA Semiconductor offers the next IC in a family of 0.9V LED boost drivers, operating white LEDs from one battery cell. While PR4401 is best suited for LED currents of up to 20mA, PR4402 is capable of 40mA. The current is set by the inductor value, resulting in a low number of external components. Applications are pocket torches, key ring pendants or head lights and LCD back lighting in single-cell devices like MP3 players.
The one-cell battery operation is very attractive. It allows design of smaller and light weighted products at lower cost. In multiple-cell operation of rechargeable batteries often one cell can be destroyed by a deep discharge. With the PR4401/4402 there is no more reason for using several battery cells or for implementing the classical light bulb. With one battery cell and depending on the application one inductor only as external component, a very small-sized circuitry can be realized with the PR4401/4402, both SOT23 packaged. The driven LED current is almost independent from the supply voltage, which guarantees a constant brightness even with a discharging battery.
PR4401 and PR4402 samples are available upon request. Data sheets can be downloaded from our web site www.prema.com/Application/whiteleddriver.html.
General information about PREMA Semiconductor GmbH, Mainz - Germany
PREMA offers design and production of mixed-signal ASICs and ASSPs
- with supply voltages from 0.9V up to 100V
- for the ultra low power range up to medium power
- development, design, production with in-house fab and test, all in one hand
ASICs and ASSPs created and produced by PREMA can be found in
- low noise audio electronics
- battery management for consumer goods and household devices
- mobile phones and moving sensors
- bar code readers and sensors (light and magnetic field)
- LED drivers
We cordially invite you to visit our website: www.prema.com for more information about us and our services.
PREMA Semiconductor GmbH
responsible Author: Dipl.-Ing. Anne Stroot
Mainz, April 19th, 2007 Application and Project Management
attached: PR4401press.jpg Phone.:+49-6131-5062-202
PR4401_4402.gif Email: anne.stroot@prema.com
PREMA Semiconductor GmbH, Robert-Bosch-Str. 6, 55129 Mainz, Germany
Phone +49-6131-5062-0, E-Mail: prema@prema.com,
Contact
PREMA Semiconductor GmbH Application + Project Management Robert-Bosch-Str. 6 55129 MAINZ - GERMANY Phone: +49-6131-5062-0 Fax: +49-6131-5062-202 Email: prema@prema.com
E-mail:Christine.Marasse@PREMA.com
Web Site:www.prema.com