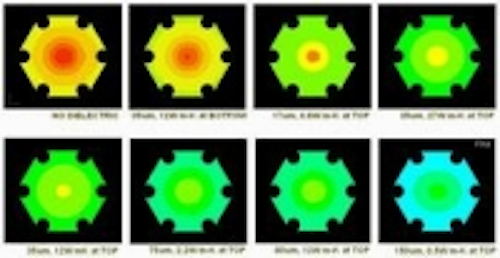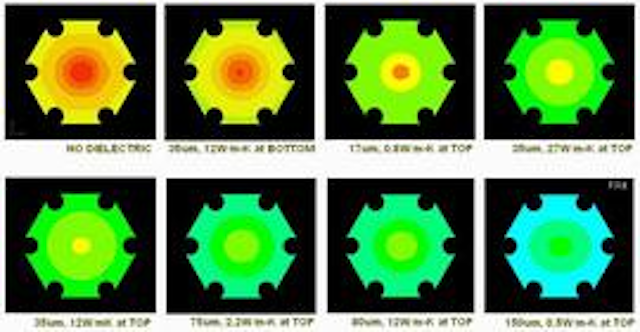 Date Announced: 15 Apr 2007
The Traditional Metal Core Printed Circuit Board (MCPCB) or Insulated Metal Substrate has a dielectric layer between the copper laminate and the metal base to provide both thermal conduction and electrical insulation for the electrical circuitries. The effective thermal performance of the overall MCPCB structure is function of both the dielectric thermal conductivity and the dielectric thickness. Copper is plated at the heat source area to allow solder as the thermal interface material; thus, reducing the contact resistance as compared to thermal epoxy mounting.
DSEM's latest MCPCB has copper plated directly on top of metal base at the heat source area and dielectric selectively plated between the copper circuits and the same metal base; thus, maximizing thermal in-plane and through-plane thermal conduction. If electrical isolation is needed at the heat source area; a second layer of dielectric can be plated at the bottom of the metal surface; thus, allowing better thermal spreading for the tiny heat source.
The patented technology allows highly efficient in-plane and through-plane thermal conduction without compromising the electrical breakdown requirement at the electrical circuit areas. The patented metal technology can be a cost effective replacement technology for ceramic base substrate or FR4-sandwiched MCPCB.
DSEM's patented substrate does not use lamination or adhesive; thus, offering superior circuit peel strength at high operating temperature. The substrate is RoHS compliant.
The thermal images depict the heat spreading and conduction at the backside of the MCPCB of the various technologies and the effect of the dielectric thickness.
Please contact us for free samples.
Contact
New Factory Address: DSEM Systems Technology Sdn. Bhd. Plot 26, Phase 4, Free Industrial Zone, Hilir Sungai Keluang 3, Bayan Lepas, Penang, 11900, Malaysia Tel: 604-6467311 Fax: 604-6432311
E-mail:kktan@dsem.com
Web Site:www.dsem.com