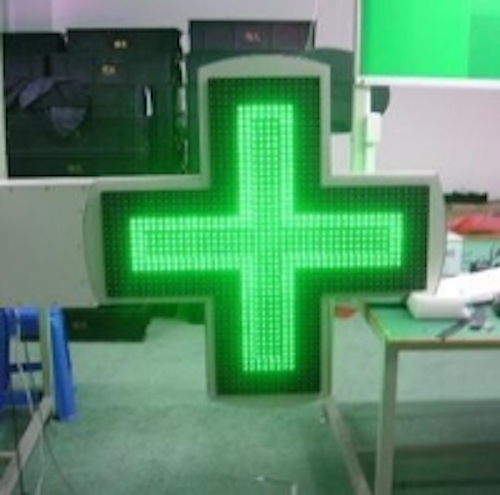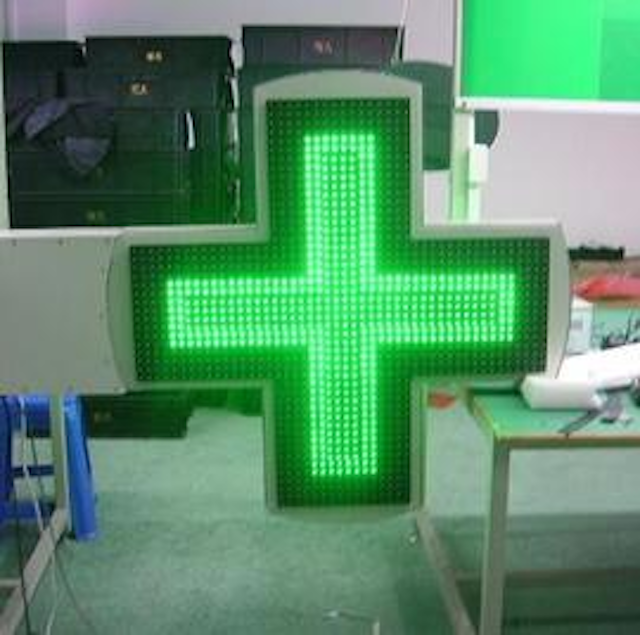 Date Announced: 05 Apr 2007
Description usage:
LED pharmacy cross is a very effective visual message display for hospital, pharmacy, medicine store and other applications, fundamental to be always present and to signal one's own presence to the customers and the whole city. Being visible even from great distance and provide an effective communication through the alphanumerical, and / or graphic display is indispensable for a modern pharmacy.
Pharmacy cross is a lot more of a bright sign: Is a system that allows to communicate with the potential customers and the all citizenship, an installation that confirms further the professionalism of a pharmacy and moreover is an informative tool that gives back an important service to the community.
Cross operator controls it by infrared remote, also you can update the content into the cross sign by computer.
LED cross includes the following items:
1. 10 pcs LED (green) modules assembly (including 10pcs LED boards and 10 pcs dive boards)
2. 1 pcs control box (including 1pcs power supply and 1pcs control board)
3. 1 pcs infrared remote controller
4. 10 pcs signal cables, 2 pcs dc power cables and 1pcs ac power
Features:
1. Programmable message display
2. Part animations group preset inside the LED display
3. Time, date, temperature and graphic display like vms
4. RS232<->422 / 485 converter
5. Low power consumption, <85w
6. CE / UL approval power supply
7. IP65 water-proof protection construction
8. Wall mounted parts available.
Specifications:
Perfect color uniformity of LED pixels
Green LED (red / amber / blue, double & mix color, RGB customized)
Each dot matrix module has 16*16 LEDs.
Brightness: Over 7500 CD / m2
Low heat consumption, less than 85w
Module size: 30cm*30cm each side
Double sides, each is consisted of 5 pcs LED modules
Water-proof design
Metal frame / holder fixed on the wall
Controller:
Cables & wires have been installed inside. All connection parts are waterproof design.
Software:
It may easily edit texts in any European countries languages from French, Spanish, animation mode, time + Date + temperature and graphic display etc. Like vms
Currently the software has 18 kinds of animation modes.
Mannual will be available in English, French and Spaish.
Wooden box:
1420mm*1120mm*210mm / set
Net Weight: 25kgs / set
Contact
Contact Person: Mr. Leo Yuan Job Title: Sales Department: Overseas Address: Room# 1107~08, Floor 11th, Hgfc Business Building, Shennan Road# 6031; Factory Add: B4 Building (Adjacent To Shenzhen Airport) , Bao'an, , Shenzhen, Guangdong, China (Mainland) Zip/Postal Code: 518000 Telephone: 86-755-88299586 Fax: 86-755-88299589 Mobile Phone: 0086-13798404194
E-mail:sale@kfledisplay.com
Web Site:www.kfledisplay.com/en/index.asp