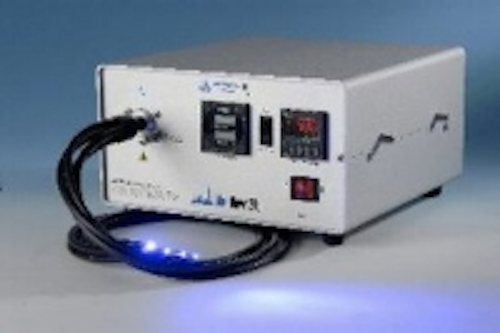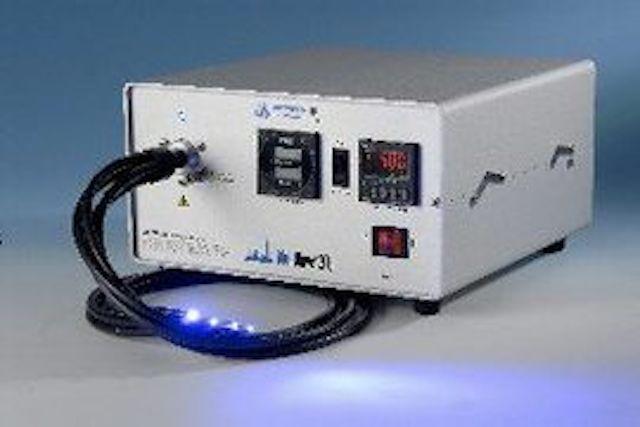 Date Announced: 05 Apr 2007
Due to the fast cure, very good adhesion and range of viscosities available, UV curing adhesives and sealings are ideally suited for LED assembly and protection applications. To continuously provide a fast and deep polymerization DYMAX has developed the new UV spot lamp system BlueWave 200 with integrated intensity adjustment. This technical feature allows for the exact determination of the required intensity to reach rapid, complete cure of the adhesive with minimized heat development to protect sensitive parts. Furthermore, the feature secures the consistency of the adhesive curing process by allowing for a constant intensity level during production.
Intensities of more than 17 W/cm² render the BlueWave 200 into a powerful UV spot curing system. The device primarily emits UVA and visible light (300-450 nm). From a process viewpoint the decrease in intensity over time and the associated impact on polymerization has been an inherent weakness in UV bulb technology (discharge lamp). However, the intensity adjustment feature allows users to take control of the desired intensity level. The adjustment compensates for the decline due to aging. A removable knob at the front panel gives the user easy access to the precise manual adjustment of the emitted intensity level (for verification a radiometer such as the DYMAX Accu-Cal 50 is used directly at the end of the light guide). In component and LED assemblies this intensity control feature supports yielding consistent high quality bonds and seals.
In automated manufacturing environments the DYMAX BlueWave 200 communicates with PLCs via its I/O-Port. Alternatively, the UV spot system can be activated using the foot pedal. Complemented by the DYMAX Accu-Cal 50 Radiometer the BlueWave 200 significantly helps to ensure high quality output in electronic manufacturing.
Contact
Dennis Siepmann Dymax Europe GmbH Trakehner Str. 3 60487 Frankfurt, Germany Phone +49 (0)69 7165 3568 Fax +49 (0)69 7165 3830
E-mail:dymaxinfo@dymax.de
Web Site:www.dymax.com