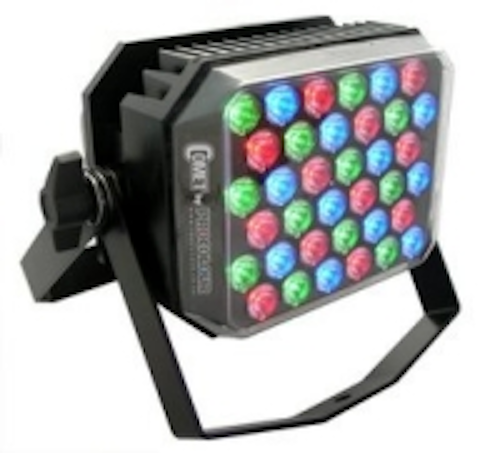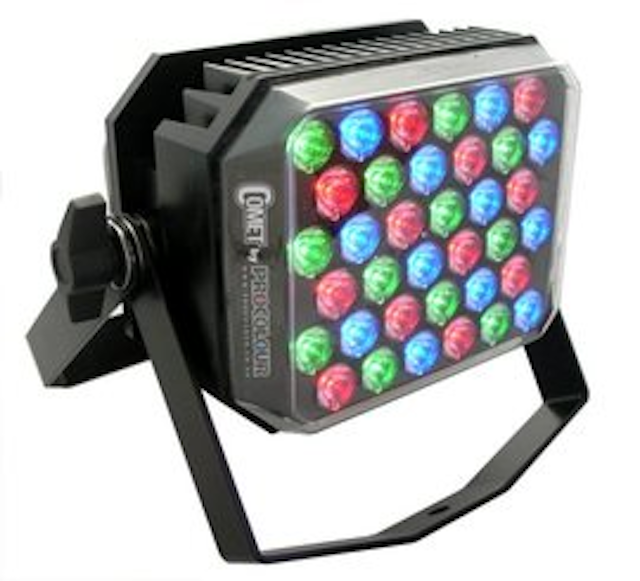 Date Announced: 26 Apr 2007
Horton Engineering announces the Procolour Comet luminaire. From conception to production, the Procolour Comet has been carefully crafted to resolve the deficiencies afflicting many LED-based fixtures.
For instance, Filament Emulation® ensures smooth, DMX-controlled colour fades similar to those of tungsten elements, rather than the jerky, stepped fades of competing LED products.
Additionally, a subtle combination of Luxeon® emitter positioning and the latest Carclo® micro-reflectors endow the 81-watt Procolour Comet with a long throw and unprecedented overall beam consistency.
The innovations continue, with features that will cement the Procolour Comet's reputation as one of the most flexible luminaires available.
Thermal efficiency is so effective that cooling fans are not required, even though the Procolour Comet can happily operate at ambient temperatures up to 50 deg.C.
Every Procolour Comet is also supplied with a specially created WeatherSeal® cable gaiter which instantly raises the total dust and moisture protection level to IP64. This is despite using industry standard XLR and Neutrik® PowerCon® connectors.
Such a combination of silence, weatherproofing and quality light output will place the ProColour high on the kit list of broadcasters and architectural designers alike. However, the Procolour Comet is also engineered to survive the rigours of life on the road due to its machined aluminium body and tough, high impact plastic casings.
Thanks to intelligent selection of materials, the Procolour Comet is light too. A mere 3.5Kg means less stress on the rig and yet another reason to stock these all round, workhorse fixtures in readiness for a range of tasks.
About Horton Engineering, creators of the Procolour Comet
Horton Engineering was created due to a strong conviction that LED-based lighting fixtures had yet to show their real potential. The company is a collective of experts in their various fields and is centrally based in Worcestershire.
Horton Engineering actively promotes the excellence of British engineering and all manufacturing takes place within the UK. The founder and chief engineer is Tony Horton who, as the design engineer at James Thomas Engineering, was deeply involved in the creation of the successful PixelRange fixtures.
The ethos at Horton Engineering is one of close cooperation in all disciplines to develop innovative solutions for long standing problems. In-depth experience, a freedom from legacy products and above all, a willingness to listen carefully to users of lighting equipment ensures that we and our fixtures are extremely well focussed.
Contact
Tony Horton Mobile: 07884 003564 Tel: 01905 423720 Horton Engineering 10a Top Barn Business Centre Holt Heath, Worcester WR6 6NH
E-mail:tony@procolour.co.uk
Web Site:www.procolour.co.uk