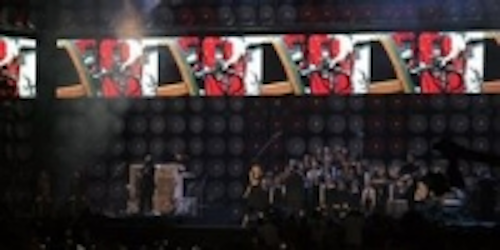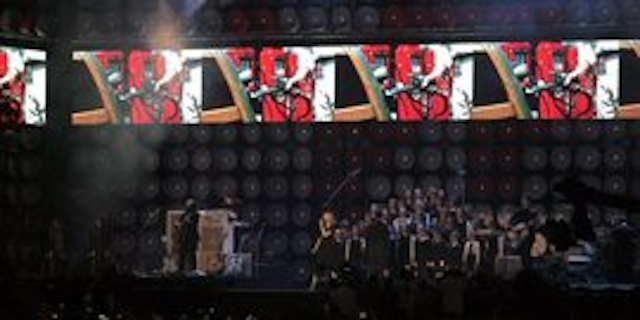 Date Announced: 16 Jul 2007
XL Video supplied one of their new HD PPUs, cameras, screens and 30 crew to the Live Earth London show staged on 07.07.07 at Wembley Stadium.
Broadcast live on BBC One and Two and presented by Jonathan Ross and Graham Norton, the Wembley show featured performances by Madonna, Red Hot Chilli Peppers, Razorlight, Snow Patrol, Keane, Corrine Bailey Rae, Genesis, Duran Duran, Paolo Nutini and many, many more.
Co-ordinating all the video elements between XL and the various event designers, producers and others involved in screen content, was screen producer Chris Saunders.
Although XL already had also a large video system installed at Wembley for the Princess Diana Tribute concert just 6 days before Live Earth, this all had to be removed in the meantime. Some kit from that system was then re-installed for Live Earth along with several new and different video elements .
Flanking both sides of Stageco's stage were two IMAG screens made up from 9 by 7 modules of Lighthouse R16 LED.
Onstage, across the centre at the back, XL supplied a 74 panel wide by 4 panel high strip of Barco I-12 LED.
Live Earth London's stage set was designed by Ray Winkler of Stufish (Mark Fisher's studio) and part of this involved a stack of hacked and distorted oil drums, inset with Saco LED fixtures. These were fed video inputs from XL's playback system.
This consisted of 4 HD Doremi hard drives controlled by a Barco Events Manager that was programmed by Richard Turner with material supplied by the Live Earth organization HQ in New York. They also supplied a machine to beam text messaging, slogans, facts/figures and calls to action across the onstage banner screen that was hooked into the XL system -
For IMAG, XL supplied a 5 of their GV LDK 8000 HD cameras. Two were positioned at FOH with 100:1 lenses, two in the pit with 20:1 lenses and the fifth was a hand-held onstage.
IMAG video director Blue Leach cut the live screen mix using a GV Kayak HD mixer/switcher. Feeds of 5 BBC camera along with 6 live satellite feeds from around the world were also available on the XL mixer. The BBC's live broadcast mix was directed by Richard Valentine
In true off-beat Blue Leach style, the image manipulation facilities of two of XL's Catalyst digital media servers (operated by Simon Pugsley) were utilized in the slightly idiosyncratic role of affecting the camera signals – similar to a DVE. The signal came out of the PPU and was encoded in HD and effected within Catalyst, before being output to the screens from there by Leach.
XL used an HD EVS to record and playback the 6 incoming international satellite feeds, which was also the playback device for all VT's in the venue …. as well as being used to roll the Madonna playback to time code
Leach had also directed the screen camera mix for the previous week's high profile Diana Tribute concert.
Lighting for the Live Earth London show was designed by Patrick Woodroffe and Mark Kenyon with equipment supplied by PRG.
About Live Earth
The monumental 07.07.07 music event was televised globally and united over 2 billion people to raise awareness of the climate crisis.
It featured 24 hours of music across 7 continents – starting with Sydney, Australia and concluded with the US show at Giants Stadium in New Jersey. It's aim - to deliver a loud & clear "call to action" that will motivate individuals, corporations and governments to move against climate change; and also to highlight the solutions needed to deal with the phenomena.
Live Earth is the beginning of a multi-year mass persuasion campaign led by The Alliance for Climate Protection.
Contact
XL Video UK +44 (0) 1442 849400
E-mail:info@xlvideo.tv
Web Site:www.xlvideo.tv