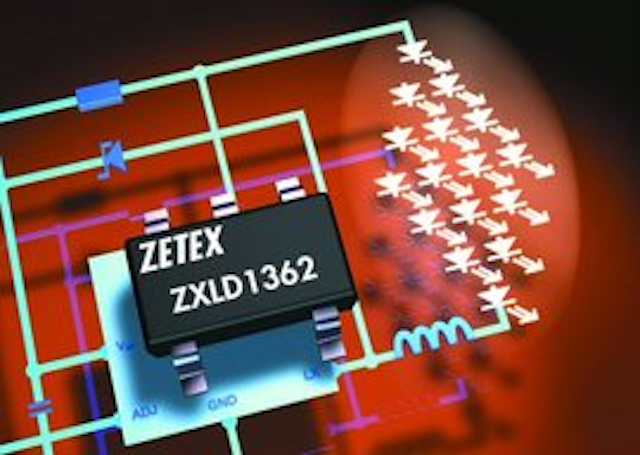 Date Announced: 05 Jul 2007
Hauppauge, NY…The ZXLD1362 chip drives up to 16 high power LEDs, with up to 1A of adjustable output current, at frequencies up to 1MHz.
Operating from a 6V-60V input supply at up to 95% efficiency, the TSOT23-5 packaged driver is the smallest of its kind within its current rating, with a maximum footprint of 2.8mm x 2.9mm and an off-board height of only 1mm.
This highly integrated, easy to use chip requires just four external components, and supports a wide range of flexible LED brightness and thermal management schemes. Sensitive, accurate LED brightness control has a typical dimming ratio of 1000:1 at 300Hz, and adding an external capacitor enables a soft-start feature. Thermal control is simple, as the 50kΩ input resistance of the adjust pin is compatible with standard thermistor values.
ZXLD1362 output current is adjusted by applying PWM or DC voltage control signals to the adjust pin, and a low voltage signal turns the output off and initiates low current standby mode.
Application advantage features include a 60V MOS switch integrated with a high-side, output current sensing circuit. An external resistor is used to set the nominal output current, and enables high power LEDs to benefit from ground referenced return paths, of particular importance in architectural lighting. The ultra-compact chip also withstands high-voltage transients, ideal for space-starved automotive and industrial applications, and is a drop-in upgrade for many lower power solutions, including Zetex Semiconductor's own ZXLD1350 (30V, 350mA) and ZXLD1360 (30V, 1A).
The ZXLD1362 LED Driver is $1.78 per chip at 1,000 quantity. Delivery is 4-6 weeks in production volumes.
About Zetex
Zetex Semiconductors designs and manufactures high performance semiconductor solutions for analog signal processing and the management of power in automotive, communications, consumer and industrial electronics.
Meeting the demand for greater power economy, precision and speed in analog circuit design, the broad Zetex product range comprises application-specific linear ICs and discrete semiconductor devices in multiple package configurations.
As a specialist in analog technology, Zetex offers a diverse series of ICs for audio, video and linear applications, as well as motor control and DC-DC conversion. Its discrete component range features trench MOSFETs, IntelliFET™ smart MOSFETs and bipolar transistors.
Headquartered near Manchester in the UK, Zetex Semiconductors has manufacturing and sales operations in Asia, Europe and the USA, and is supported by distributors in more than 45 countries. Its parent company, Zetex plc, is quoted on the official list of the London Stock Exchange (listing symbol: ZTX.L).
Contact
Zetex Inc, Hauppauge, NY, USA Tel: 631-360-2222 Fax: 631-360-8222
E-mail:usa.sales@zetex.com
Web Site:www.zetex.com