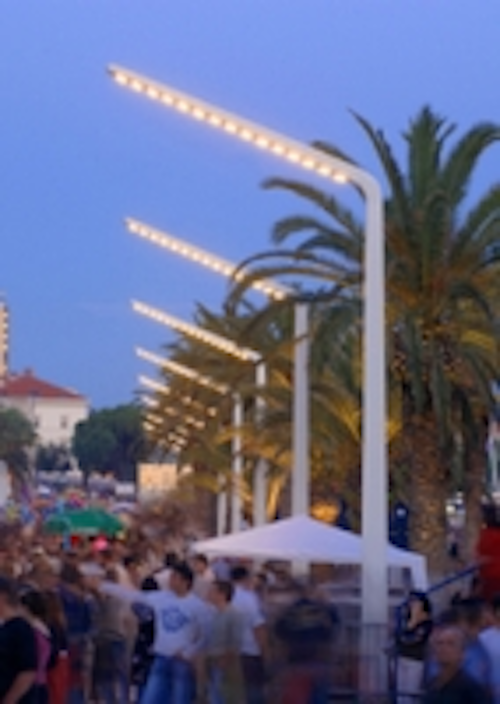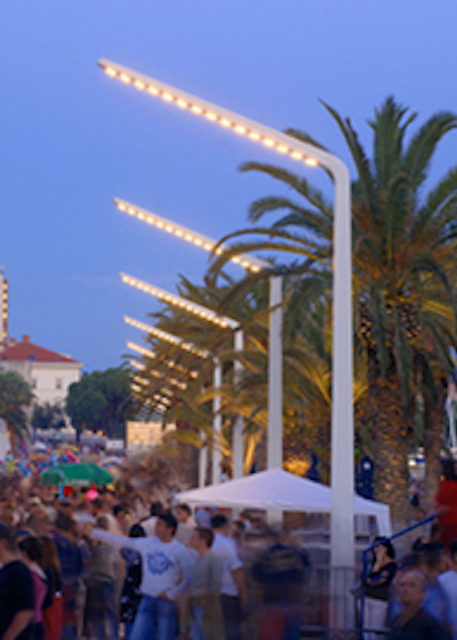 Date Announced: 05 Jul 2007
For the first time, LEDs meet the challenge of urban lighting, combining photometric performance and visual comfort!
As part of the renovation of its seafront - the Riva - the city of Split chose Schréder for this world first, using Cree LEDs which have only just been launched on this constantly evolving market.
The Riva is a must-see attraction for the millions of tourists who come to Dalmatia each year to visit the hundreds of islands scattered along the length of its coast.
Schréder developed and manufactured a made-to-measure solution in collaboration with the architecture firm 3LHD, the urban furniture designer Numen/For Use, the lighting designers Nova-Lux and ZTT Zagreb, Schréder's exclusive distributor in Croatia.
Fifteen luminaires have been installed, each one incorporating 180 high-power LEDs which diffuse a remarkable warm, white light (3000K). The luminaires comprise 45 modules (IP 67), each equipped with 4 LEDs.
Each module is orientated in a precise way to achieve a specific goal, which is to master light. Indeed, LEDs provide a very directional lighting, which requires extreme precision in their orientation when they are used in urban lighting applications. This was the challenge which was taken up by the Schréder designers and engineers.
The first measurements highlight what is also clear to the objective observer: an average illuminance of 32 lux, with an overall uniformity of 40%.
Officially inaugurated on 7th May 2007, this focal point of Croatian social life has already welcomed thousands of visitors, who are sure to have appreciated the visual comfort provided by this new type of urban lighting while enjoying a relaxing stroll.
About the Schréder Group GIE
The Schréder Group GIE is an international group, specialising in outdoor lighting, with over 2,000 employees in 33 countries around the world. Since its foundation in Belgium in 1927, performance and innovation are the core requirements of the Group's products.
Today, the Schréder brand evokes innovation and technical expertise in the fields of public, motorway, industrial and tunnel lighting as well as in the field of urban lighting.
Schréder offers a full range of urban lighting luminaires – classical or contemporary – developed in close collaboration with designers of international renown to allow the creativity of architects and town lighting planners.
Contact
Mr. Michel Lycke Schréder Group Communication Manager m.lycke@schreder.com
E-mail:grainne.bunting@schreder.com
Web Site:www.schreder.com