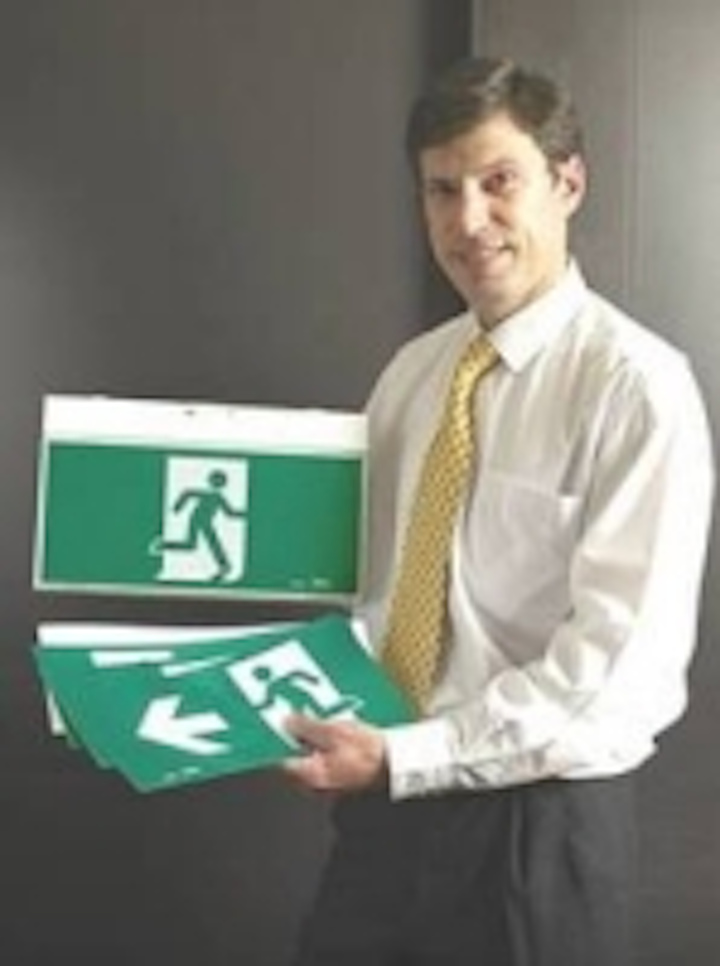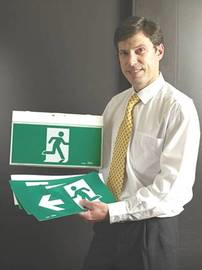 Date Announced: 08 Jul 2007
An essential building safety requirement is to ensure that the occupants can be safely evacuated in the event of an emergency and exit signs are used to show the exit path in such cases. Australia has been a world leader in the field of emergency lighting and for more than three decades, Legrand has been a part of this evolution.
The company has just re-engineered its popular Slide Connect Exit sign range. Legrand's new LED Slide Connect is smarter and greener and uses a single light source based on an LED (high brightness light emitting diode).
LEDs generate relatively low amounts of heat and most of the energy goes into producing visible light. The LED Slide Connect consumes around 4Watt of energy compared to 15W (or more) to a similar fluorescent exit sign.
Exit signs run 24/7 and there are often hundreds or even thousands of fittings in a building. The energy savings are compounded by reduced maintenance costs associated with replacing bulbs in incandescent and fluorescent exit lights delivering a quick payback – often within two years.
For example a facility with 100 fluorescent exit signs can typically save AUD $2,533 (US$1899) per year in power bills, labour and parts simply by upgrading to the greener LED Slide Connect.
Legrand is the first company in Australia to adopt a single light source LED for emergency lighting applications. LED Slide Connect uses a single 3Watt, solid state, high brightness LED in conjunction with a patented optical refractor that focuses the bright point source of the LED onto both faces of the Exit sign. Combined with a cool-running SMPS (switched mode power supply), this ensures a lamp life expectancy of more than 50,000 hours.
Legrand's LED Slide Connect Exit Sign is easy to install and can be plugged directly into the old series base module to avoid rewiring work and minimise upgrade costs. LED Slide Connect also supports Legrand's AXIOM wireless technology and can therefore be upgraded to a computer-monitored system. Other options include metallised and black body finish, exit and 'running man' pictogram legends.
Legrand's new LED Slide Connect complies with Australian Standards AS2293:2005 for brightness and uniformity and has reduced energy consumption delivering a perfect solution to exit sign applications with a lower total cost of ownership.
About Legrand
Legrand (www.legrandelectric.com) is a principal worldwide specialist for products and systems for low-voltage electrical installations and data networks. Legrand provides solutions for residential, commercial and industrial buildings. With more than 130,000 catalogue items and a commercial presence in more than 60 countries, the group generated revenues of €3.2 billion ($5.3 billion) in 2005. With a workforce of 31,000 employees and nearly 5 per cent of its sales invested in R&D each year, the group focuses its development on innovation and a regular stream of new, high added-value products.
ABOUT LEGRAND AUSTRALIA Pty Ltd
Legrand Australia is a wholly-owned subsidiary of Legrand France. It employs over 900 local staff in all major Australian and New Zealand markets.
Contact
Eduardo Yudowski Phone: +61 2 8748 0333
E-mail:eduardo.yudowski@legrand.com.au
Web Site:www.legrand.com.au