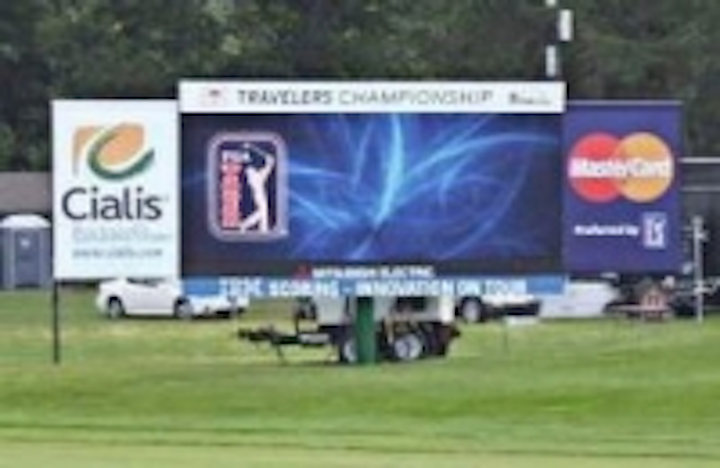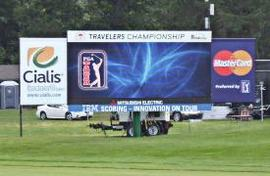 Date Announced: 05 Jul 2007
Capable of operating independently virtually anywhere on the course, the PGA TOUR's new Diamond Vision screens allow spectators to enjoy the action wherever they are.
The PGA TOUR has upgraded its electromechanical scoreboards to the latest LED screen technology from Mitsubishi Electric. The 20-year-old scoreboards are being replaced with 22 mobile Diamond Vision screens, specially designed for the PGA TOUR.
Capable of operating virtually anywhere on the course, the new screens allow video, graphics and player statistics to be relayed to multiple vantage points, allowing spectators to enjoy the action wherever they are.
Diamond Vision is perhaps the best known sports screen in the world, now installed at over 650 stadiums and arenas around the globe.
Measuring 6.15m by 2.3m, the new Diamond Vision scoreboards are 75% larger than the old PGA TOUR scoreboards they replace, making them far more visible. Diamond Vision's wide viewing angles and 16.7 million colour palette is also a considerable improvement over its single-colour predecessor, enabling a media-rich blend of player stats, graphics and video to be relayed to exactly where it's needed.
The high-brightness screens enable content to be clearly seen even in bright sunlight, while built-in light sensors scale down Diamond Vision's powerful light output when it's not needed. Along with other anti-glare features incorporated into the PGA TOUR system, this ensures players are not in any way distracted by glare or other intrusions.
The PGA TOUR scoreboards were specially engineered by Mitsubishi Electric to meet the demands of the TOUR – demands which are quite different to a permanent stadium installation. Each of the screen units had to be completely mobile and to be able to operate independently, often in locations without power or communications infrastructure of any kind.
To achieve this, all 22 mobile units are fully self-contained. An on-board computer system allows each screen to display information continuously, while receiving updates via a sophisticated wireless network. Yet despite this, only a single tractor-trailer unit is required to transport 11 screen modules from course to course.
When the new system is fully operational in July 2007, this will allow screen systems to "leap-frog" between golf courses: While one 11-screen system is in use, the other 11 modules are either in transit or being installed.
The Diamond Vision screen systems were used for the first time at THE PLAYERS Championship at TPC Sawgrass in May. The full complement of 22 screens is expected to become operational during the course of the season as more crews are trained how to transport and install the systems.
The phasing-in of the Diamond Vision screens is expected to be completed by the time the TOUR arrives at Akron, Ohio for the World Golf Championships - Bridgestone Invitational at the end of July.
According to the New York Times (April 23 2007), the PGA TOUR is enthusiastic about the new Diamond Vision system and the benefits it brings for spectators. Stephen Evans, the PGA TOUR's senior vice-president for information systems, said, "The more we can engage the fan and make him comfortable that we're going to provide relevant information, and also entertaining information, the better job we're doing for that fan." He continued, "We're really focused on the best experience we can give the fan given the environment we're in."
Contact
Mitsubishi Electric Power Products, Inc. Tel: +1 (724) 778-5183
E-mail:info@diamond-vision.com
Web Site:www.diamond-vision.com