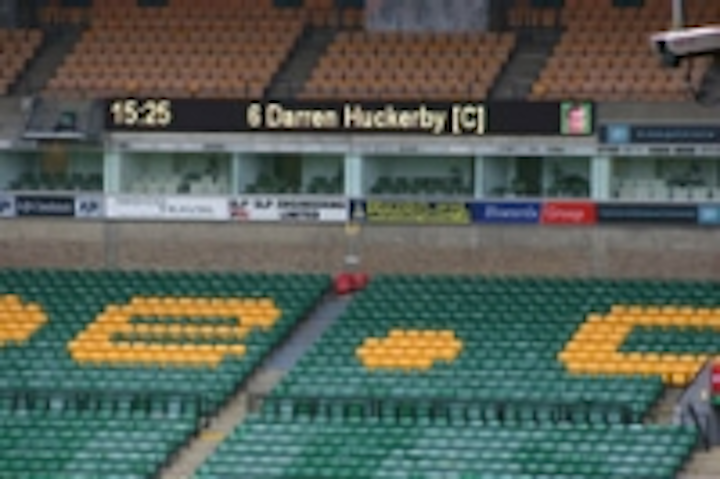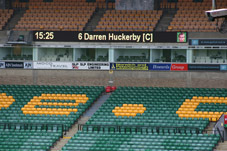 Date Announced: 18 Oct 2007
Norwich City FC takes the match day experience to a new level with the latest digiLED scoreboard technology. Fans are entertained with live scores, messages and live RSS feeds whilst sponsors can maximize their advertising potential with this ground breaking content.
Once again digiLED's ability to configure and design modules to suit any application was put to the test at Norwich City FC. The brief was to find a solution that could displays scores, enhance the fans' whole match day experience and provide a tool for attracting additional advertising and sponsorship revenue. In addition the solution had to fit the existing space which meant the digiLED team needed to build bespoke modules to maximize the display's size.
The digiLED video scoreboards were mounted on steel structures designed and built to specifications issued by the displayLED project team. Once in place the digiLED modules were easily installed within one day.
As enhancing match day experience was paramount for Norwich City they opted for the latest digiSPORT software specifically designed to fit their own match day format. Developed specifically for the sports environment, digiSPORT controls and manages information, images, videos and live media simultaneously to any number of LED screens.
Not only does digiSPORT process images and scores, it also delivers live RSS feeds, a huge selling point for potential sponsors as they can send live online adverts to the video scoreboards.
The 26 digiLED d11 modules offer a 22mm physical, 11mm effective, pixel pitch. Measuring 13.904m wide x 0.88m high, the 13 module configuration provides a screen with an effective resolution of 1,264 x 80 pixels.
"The digiLED display moves Norwich City onto the next level in terms of being able to offer a digital advertising and sponsorship to our partners, judging from the message boards, the fans love it too," said Will Hoy, Brand Marketing Manager, Norwich City FC.
"The digiLED team took our brief and came up with the perfect solution to enhance our match day operations. Installation and implementation were seamless, displayLED did exactly what they said they would," said Neil Doncaster, Chief Executive, Norwich City FC.
"Norwich City is a great client because they like to challenge us – they had a clear vision of what they wanted and how it would be used. We built on their requirements by providing them with the groundbreaking digiSPORT system which has the ability to deliver third party data from web feeds – this is a first in European football," said Guy Horrigan, Sales Director, displayLED.
Contact
info@digiLED.com www.digiLED.com
E-mail:sians@displayLED.com
Web Site:www.digiLED.com