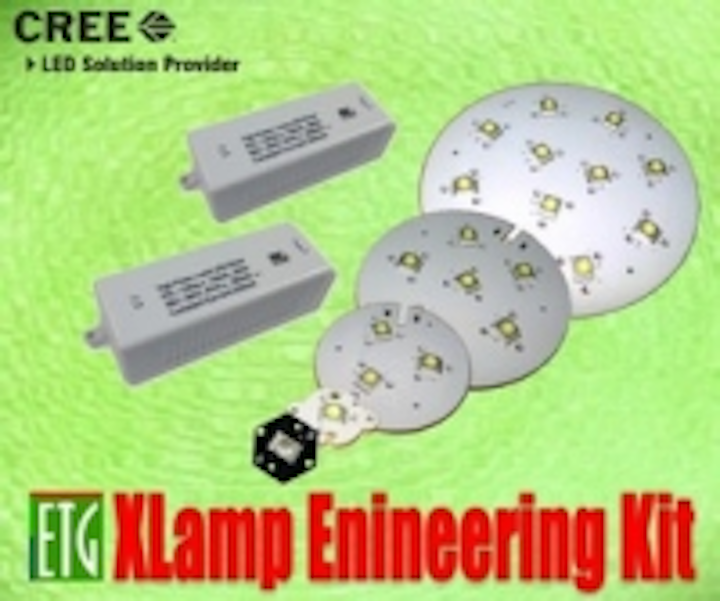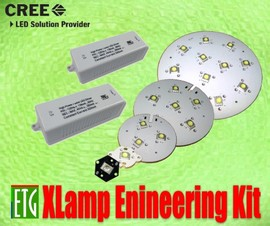 Date Announced: 15 Oct 2007
LOS ANGELS, CA., October 15, 2007 — ETG, Corporation, one of the exclusive Cree, Inc. stocking distributors and premier integrator of Cree® XLamps™ in North America announced today that they have introduced a comprehensive line of light engines featuring the highest ranked XLamp bins for use in prototype development.
The series comprises an off the shelf "building block" development platform that is ideally suited to lighting designers interested in creating solid state lighting (SSL) products to meet the industry's growing demand for green energy efficient lighting systems.
The LBB series is comprised of five distinct light engines and two 14-watt UL listed constant current drivers. The supplied drivers are both constant current units that take standard UL line voltage in and produce 1-40VAC at either 350mA or 700mA constant current output.
The standard light engines are available standard on 2mm thick metal core printed circuit boards (MCPCB) but available on 1.5mm or 4mm thick MCPCBs by special request.
The single XLamp variants, a round version suitable for linear arrays and single light source projects and a hex-version that is well suited for single light source projects or for creating dense arrays, are pre-configured with Cree's latest 100+ lumen Xlamp.
The round version (LBB1) is only 20mm in diameter, while the hex version (LBB-HEX) fits in a 25mm diameter footprint. Both units have solder pads standard and require only hook-up wire to connect them to the supplied driver.
The multi-XLamp light engines are pre-configured with three, six or 11 XLamps from Cree's highest ranked bins and are matched for brightness and color uniformity. The LBB-3 is a three Xlamp variant, the LBB-6 includes 6 XLamps and the LBB-11 features an industry leading 11. The LBB series is capable of raw luminous intensities from 100 lumens to over 1100 lumens making the series a versatile off the shelf SSL solution.
Standard color temperature is 6500K CCT with white output shades ranging from 2600K to 7000K CCT available by special order. Monolithic colors in blue, cyan, green, yellow, amber and red are also available by special request.
The LBB Series is also available as a complete engineering kit that is comprised of one of each part from the series, one round LBB1, one hex LBB-HEX, one round LBB-3, one round LBB-6 and one LBB-11 along with an LBB-14-350 and one LBB-14-700 driver. The engineering kit comes complete with data sheets and application notes that will assist a lighting designer with no prior experience to get a jumpstart on their SSL lighting project. Kits can be ordered with hook-up wire attached or bare. The kits are available from stock at $350.00 each with individual light engines starting a under $10.00 each.
"ETG's commitment to being a supplier of choice for the Solid State Lighting Industry is backed up by the most extensive inventory of Cree XLamps available in North America", commented Bernard Eshel, President of ETG, Corp. "ETG has been there since the birth of the Solid State Lighting Industry and has extensive experience in helping manufactures integrate XLamps into their lighting products. These engineering kits are simple building blocks that will facilitate a rapid integration into existing projects", he concluded.
The entire LBB series is in stock and ready for immediate shipment. Please contact the factory at 310-202-6400 or email info@etgtech.com for additional details.
About ETG, Corp.
ETG Corp. is a broad based manufacturer and distributor of advanced Light Emitting Diodes (LEDs). The products include high-power/high-output (HPHO), surface mount (SMD), through-hole, and value added custom assemblies. Founded in 1998 by Electronics' Industry veterans with the sole purpose of raising the standards in the lighting industry using LED technologies, ETG has advanced the state-of-the art with the introduction of many industry-leading technologies.
Contact
ETG Corp, Bernard Eshel Los Angeles, California, USA 310-202-6400
E-mail:anthony@cptmi.com
Web Site:www.etgtech.com