American Bright unveils world's smallest, low current surface mount LED
Oct 1st, 2007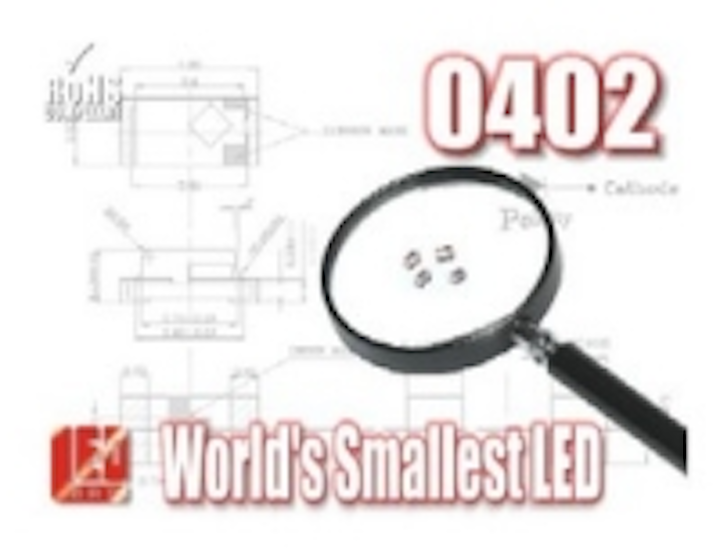 Date Announced: 01 Oct 2007
American Bright Optoelectronics Corporation announces the introduction of the world's smallest, low current surface mount LED
American Bright introduces a sub-miniature 0402 LED compatible with industry standard automatic assembly equipment.
Chino, Ca. – American Bright Optoelectronics announced today the introduction of the industry's smallest, low current surface mount LED in 0402 (1.0x0.5x0.4mm) package size. The BL-Hxxx7A-TRB series is compatible with infrared and vapor phase reflow solder processes and provides compatibility with industry standard automatic placement equipment. The new series is 100% RoHS compliant and compatible with industry accepted lead free processes.
The BL-Hxxx7A-TRB series is ideally suited for backlighting LCDs, keypads, point of sale displays, automotive instrument clusters and any application wherein PCB real estate or power are at a premium. The series features a water clear epoxy lens, 120-degree viewing angle and is available in a wide selection monolithic colors. For instance, luminous intensity of the 460nm Super Blue (BL-HB337A-TRB) is 18mcd at only 5mA.
"We have reached one of the practical limits of miniaturization with the introduction of the 0402 series," commented George Lee, American Bright Optoelectronics President and CEO. "This device is ideally suited to a number of small, low power applications across multiple industry segments," Mr. Lee concluded.
The new series is available on 3000 piece reels, with smaller quantities for prototyping and development available upon special request. Production quantity pricing starts below $63.10 per thousand for part number BL-HB337A-TRB. Please contact the factory for further information toll free at 1-888-533-0800, or visit American Bright online at www.americanbrightled.com.
About American Bright Optoelectronics
American Bright Optoelectronics is a subsidiary of Taiwan-based Bright LED Electronics Corporation, a recognized leader in the research, engineering, manufacturing and marketing of LED components to major markets worldwide. Formed as the marketing organization for the Americas and Canada in 1995, American Bright has enjoyed sustained growth while introducing several innovations to a wide variety of markets.
Conscious of their global responsibility to the environment, the majority of products are produced with lead-free, RoHS compliant materials and processes. Bright LED Electronics and American Bright Optoelectronics are ISO 14001: 2004 and TS16949 certified.
Contact
American Bright Optoelectronics Corporation 13815-C Magnolia Ave., Chino, CA 91710. Tel: (909) 628-5050 Fax: (909) 628-5006 Toll Free (888) 533-0800
E-mail:info@americanbrightled.com
Web Site:www.americanbrightled.com