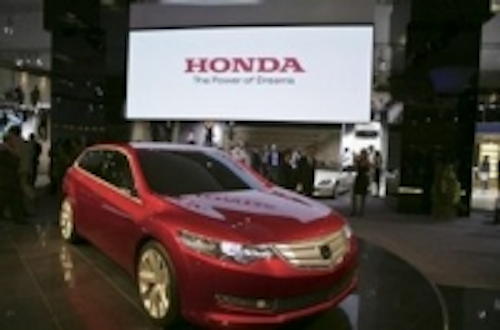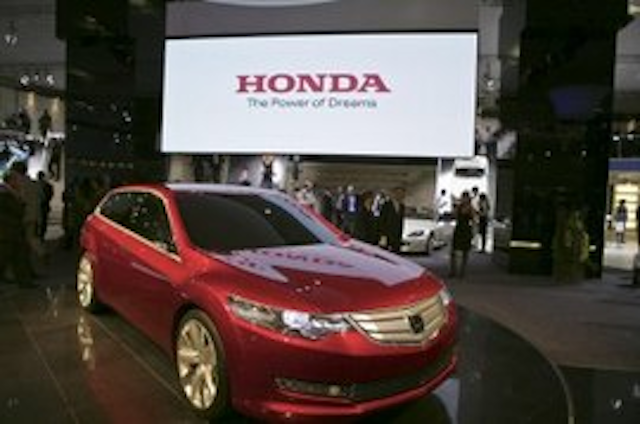 Date Announced: 05 Oct 2007
Mitsubishi put on a tremendous display at this year's Frankfurt Motor show - and not just of the automotive variety. For amongst the acres of gleaming paintwork and polished chrome, Mitsubishi Electric's new "black package" Diamond Vision LED screens were in action promoting some of the world's most prestigious car brands, including Audi, Dodge, Honda and Bentley.
Lang AG supplied 4.00mm IDT4 to Bentley, Honda and Blaupunkt, while Audi, Smart and Dodge used Gahrens & Battermanns' brand new 6.00mm IDT6 as the central display feature of their stands. The endorsement of so many prestigious clients at one of their most important trade events of the year firmly establishes the reputation of the new black package Diamond Vision LED screens at the top of their class.
Russell Hartwell, sales manager for Diamond Vision in Europe, commented, "Motor shows are about quality rather than quantity: Traditionally, car manufacturers have always been early adopters of the best display technologies, and their stands at the major motor shows tend to set the performance benchmark by which all displays are measured. This year's must-have display technology was black package LED, and I am delighted that so many discerning clients have clearly judged Diamond Vision to be the best example of that genre currently available."
Black package technology refers to the material used to mount the individual LED clusters. The latest Diamond Vision IDT4 and IDT6 systems use a unique combination of black compounds and components which dramatically increases contrast levels and image quality, making them an ideal choice for high-end, high-profile applications such as motor shows.
Diamond Vision's unique 3-in-1 LED package delivers this exceptional contrast performance while maintaining extremely wide viewing angles with almost no colour distortion when viewed off-axis. This is an important consideration in an exhibition environment, where viewing distances are restricted and superb image quality has to be delivered from all angles, not just head-on.
Hans-Peter Schurig of Mitsubishi Electric Germany, commented, "Exhibitions are very difficult places for some LED screens because of viewing distances and angles. However no such problems exist for our Diamond Vision IDT4 and IDT6 systems and, as we saw at IAA, they work extremely well in these conditions.
"I think it is interesting to note that while there were many other LED screens in use at IAA this year, most were being used just as lighting effects or low-resolution backdrops. By contrast, the standard required of the main video display is very high, nevertheless the IDT4 and IDT6 systems performed very well in this role and the end users were delighted with the result." Following its successful debut, Gahrens & Battermann has secured additional IDT6 bookings for the Los Angeles motor show next month.
Mitsubishi Electric's Diamond Vision system is enjoying particular success in Europe, with several of the region's leading hire companies acquiring new systems or increasing their rental fleets in 2007. Along with the high-resolution indoor screens for Lang AG and Gahrens & Battermann, Massteknik and XL Video have taken delivery of significant amounts of Diamond Vision outdoor screen this Summer.
Most of Europe's top screen rental businesses now operate Diamond Vision systems, where its reputation - built, perhaps like its automotive namesake, on performance and engineering quality - remains as strong as ever.
Contact
Russell Hartwell, Sales Manager - Diamond Vision Mitsubishi Electric Europe B.V. Tel +44 (0) 1707 276100
E-mail:DVsales@meuk.mee.com
Web Site:www.diamondvision.nl