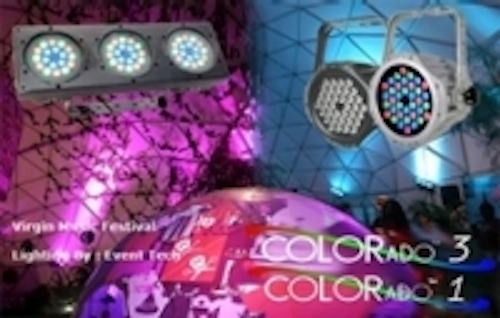 Date Announced: 12 Oct 2007
Virgin Music Festival Goes Green
Baltimore, MD - The Virgin Music Festival took a decidedly "green" turn this year, down to the lighting. Sponsor Virgin Mobile made good on its pledge to present a model of an eco-friendly, "near zero waste event," as top performers such as The Police, Smashing Pumpkins, Wu-Tang Clan, and the Beastie Boys descended on the Pimlico Race Course for a two day music and food extravaganza on August 4th and 5th.
"It was all about green," says Mike Aug, vice president of Event Tech, a 26-year-old full production and rental company, which was given a mandate to use LED-fitted fixtures in multiple locations throughout the 140-acre site, due their ecological advantages over traditional lamps.
Event Tech selected primarily CHAUVET COLORado washlights. "We knew the product, and we knew what it was capable of," Aug said, citing the fixtures' integrated power supply, on-board DMX, luminosity, and affordability.
The lights' IP65 rating was also a strong deciding factor. Festival organizers requested fixtures that could withstand the elements because, historically, it had rained during this time in Baltimore over the past decade.
Tech installed one CHAUVET COLORado 1 and seven CHAUVET COLORado 3's in each of four "activity domes", set to provide shelter from the sun as well as relaxation and entertainment activities to an estimated 60,000 attendees. The fixtures ran off one circuit, leaving enough power for a small sound system in each dome as well. One dome was a "misting dome", allowing the audience to go in to cool off. There, in a test of their IP65 rating, the COLORado fixtures "got drenched for two days" yet performed flawlessly in a rainforest-type atmosphere, Aug said.
Event Tech also used a total of 20 COLORado 1's to illuminate an organic outdoor stage and the outside of the "Greenspot", an area earmarked specifically to raise environmental awareness and display eco-friendly technology. Additionally, 15 CHAUVET LEDrain 56 fixtures washed two onion-shaped "pods" housing art installations. They were set to produce ambient white lighting without outboard control.
The eco-friendly characteristics of LEDs and the substantial power savings they afford are earning a growing following among entertainment lighting designers. "Environmental concerns in the current social and political climate and rapid advances in LED lighting make going green an increasingly attractive and affordable option for entertainment venues and productions of all sizes," CHAUVET Product Manager Barry Abrams said.
Founded in the early '80s while now-President Eric Maynard was still in college, Event Tech quickly grew and began offering audio, lighting, staging and more. Today Event Tech offers full production services and rentals for special events across the U.S. For more information about Event Tech, please call 410.850.8343.
-- www.eventtech.com
-- www.chauvetlighting.com
-- www.virginfestival.com
Contact
CHAUVET
E-mail:pr@chauvetlighting.com
Web Site:www.chauvetlighting.com