Tennessee Titans choose Daktronics for LP Field video system upgrade
Oct 18th, 2007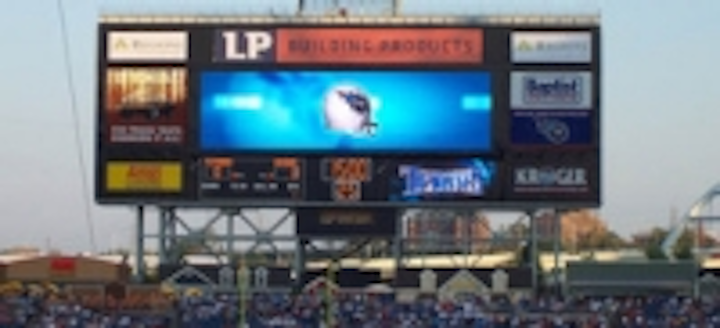 Date Announced: 18 Oct 2007
BROOKINGS, S.D. – Tennessee Titans fans attending the team's home games this season have enjoyed a major technology enhancement at LP Field. Titans fans are experiencing exciting programming on two new large Daktronics (Nasdaq-DAKT) video displays, each measuring approximately 24 feet high by 90 feet wide, retrofit into the center of the existing end zone scoreboard structures. Installation was completed earlier in the summer and the displays were used for several events leading up to the start of the NFL regular season.
The two video displays are the second phase of a scoreboard upgrade that began prior to the start of the 2006 season, when the Titans contracted with Daktronics to enhance other sections of the end zone scoreboards with new fixed digit, light emitting diode (LED) scoreboards and new full-color LED auxiliary displays, similar but smaller than the new primary video boards installed this summer.
In addition to being nearly three times as wide as the previous video displays, the new boards use the latest in LED technology for increased clarity, greater viewing angles, improved reliability, and reduced power consumption. Each of the new end zone boards are comprised of more than one million individual red, green and blue diodes, providing high resolution with enhanced image reproduction of the digital video and other information to be shown.
"We are pleased to continue our partnership with the Titans with this major system upgrade," said Kyle Adams, Regional Sales Manager for Daktronics. "I am confident the fans will absolutely love the new video displays and the flexibility and entertainment value they will provide."
The multi-million dollar upgrade will add to an integrated system that includes scoring, timing, statistics display, message, advertising and video. LP Field is the 17th National Football League venue to incorporate an integrated Daktronics "Super System". Other recent NFL projects include systems for Heinz Field in Pittsburgh, Dolphin Stadium in Miami, the Louisiana Superdome, and the Arizona Cardinals' University of Phoenix Stadium in Glendale. Daktronics systems are installed at a total of 26 NFL venues.
About LP Field
LP Field, which seats approximately 69,000 fans, is a state-of-the-art, open-air, natural grass facility, that the Titans share with Tennessee State University. Located on 105 acres on the east bank of the Cumberland River overlooking downtown Nashville, it was built by HOK Sport + Venue + Event, one of the world's leading sports architecture firms.
About Daktronics
Daktronics is recognized as the world's leading provider of full-color LED video displays. Daktronics began manufacturing large screen, full-color, LED video displays in 1997. Since then, over 3,700 LED video displays have been sold and installed in sports, entertainment and commercial facilities around the world. Since 2001, independent market research conducted by iSuppli Corp. lists Daktronics as the world's leading provider of large screen LED video displays.
Daktronics has strong leadership positions in, and is one of the world's largest suppliers of, electronic scoreboards, computer-programmable displays, digital billboards, large screen video displays and control systems. The company excels in the control of large display systems, including those that require integration of multiple complex displays showing real-time information, graphics, animation and video. Daktronics designs, manufactures, markets and services display systems for customers around the world, in sport, commercial and transportation applications.
Contact
Daktronics Tel. +1 (605) 697-4300 or toll-free (800) 325-8766 in the US
E-mail:sales@daktronics.com
Web Site:www.daktronics.com