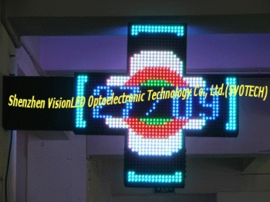 Date Announced: 03 Oct 2007
LED cross display is a very effective communication and advertising tool, which displays variable messages to highlight your store/pharmacy (for example) in the city and impress the potential clients. With user-friendly software and multi-color solutions(single color, mixed color and full color), Svotech LED cross displays can provide customer with fantastic and amazing advertising solutions.
Svotech LED cross displays include the followings(by size):
A. 40 cross display, 38.6×38.6×5.5cm
B. 80 cross display, 80×110×10cm
C. 110 cross display, 110×150×15cm
Svotech LED Cross Display Features:
● Can display current temperature (Centigrade or Fahrenheit), time, date, graphics, animations (including GIF format) and free text messages.
● Can display messages in English, French, German, Italian, Spanish and many other languages.
● Operating software supports Windows XP/2000, can store messages up to 1MB (80 cross) and 4MB (110 cross).
● User-friendly operating software allows user to edit/modify the text, draw/clear a picture freely, increase/decrease the speed, enlarge the characters height, make text scroll in horizontal or vertical, select among tens of font sets…All operations can be done very easily and conveniently!
● Open/Close option allows messages to appear at predetermined hours and minutes.
● Set Bright option allows adjusting the illuminating brightness at predetermined time.
● Wireless control to a great distance 100m without any barriers.
● Low power consumption, < 150W
● SUPER THIN and slim display body and easily to maintain(modules can be removed and maintained from the front).
● Outside metal frame can be sprayed in color of customer's choice.
● Outdoor (water-proof)/semi-outdoor/indoor designs for customer's choice.
● Single-side and double-side display for customer's choice.
NEW FUNCTIONS:
* When creating a new animation, user can open existing flash files (GIF format) to get animations and just click OK to display, or he can also modify them before display.
* Once connected, our 110 Cross can cleverly search the LED work parameters (LED address, baud rate and COM port), which can also be modified by user on PC.
Contact
Karen Qin, Sales Manager Shenzhen VisionLED Optoelectronic Technology Co., Ltd.(Svotech) Add: Meijing Industry Park, Qiaoxiang Rd, Nanshan District, Shenzhen, China Tel.: +86-755-26009386 Fax: +86-755-26009157
E-mail:SamworkLED@gmail.com
Web Site:www.shihantech.com