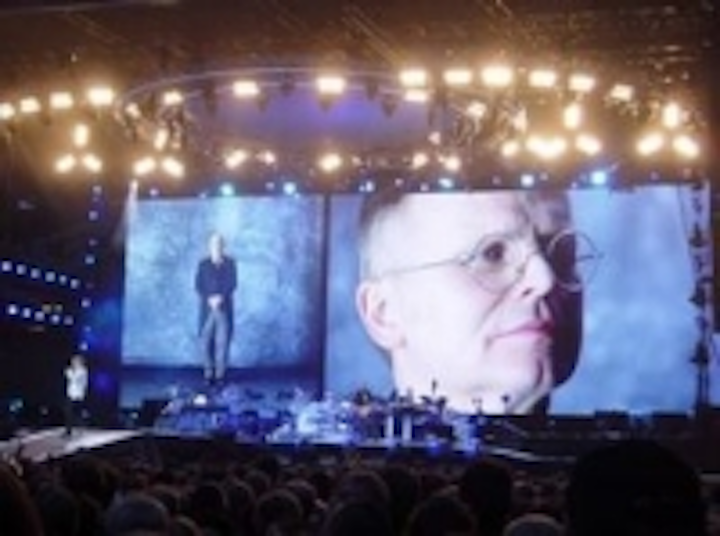 Date Announced: 05 Oct 2007
XL Video used a Mitsubishi Electric Diamond Vision OD8 screen to provide an incredible video backdrop to performances by one of Europe's greatest stars, the legendary Herbert Grönemeyer.
More familiar to UK audiences for his acting - most notably as Lieutenant Werner in the classic WW II submarine epic Das Boot (The Boat) - as a singer and live performer Grönemeyer has achieved massive success in his native Germany, racking up over 15 million album sales, including the most successful German album ever released. In March 2007 he released his 12th studio album "12", which was followed by a stadium tour through German-speaking countries, culminating in a series of dates at Germany's World Cup stadia and at selected venues in Austria and Italy.
Designed by Anton Corbijn, the striking stage for the tour used a massive LED screen backdrop as an integral part of the show. Supplied by XL Video, and measuring some 25 metres wide by 9 metres tall, the screen was built from 11 x 24 modules of Mitsubishi Electric's Diamond Vision OD8 modular system.
Despite its size, thanks to the unique mechanical design of the Mitsubishi system, the typical installation time was just 3.5 hours, with only 1.5 hours required to take it down and have it loaded onto the trucks ready for transport to the next venue. The Diamond Vision system performed flawlessly for the entire tour, with the production team being impressed with both the performance and ease of installation of the OD8 system.
Along with the screen, XL provided a complete digital production suite, including an Encore system, Kayak DD Mixer, 8 digital cameras and a full HD playback system DVS Pronto for video playback on the Diamond Vision screen. The director was Blue Leach.
The 8mm OD8 is just one of a number of rental options in the Diamond Vision family, ranging from 4mm to 25mm pixel pitch screens. Each one has been specifically designed for rental and touring applications. Diamond Vision systems are now in use by every major screen rental business in Europe and - along with their superb image quality - enjoy an excellent reputation for speedy, trouble-free installation, reliability and longevity on the road.
Contact
Steve Halliday, Managing Director Mitsubishi Electric Europe Diamond Vision Orpington, Kent, UK Tel. +44 (0)1689 896466
E-mail:news.release@eido-pr.eu
Web Site:www.diamondvision.nl