Shenzhen Dicolor's LED displays help the ethiopian MILLENNIUM 2000
Dec 25th, 2007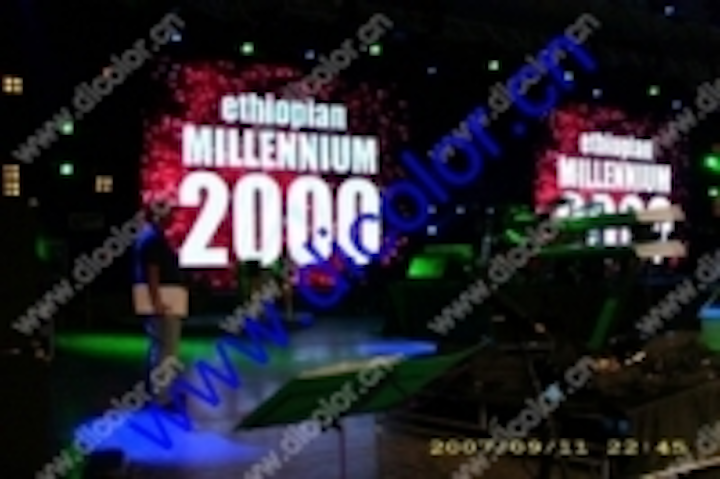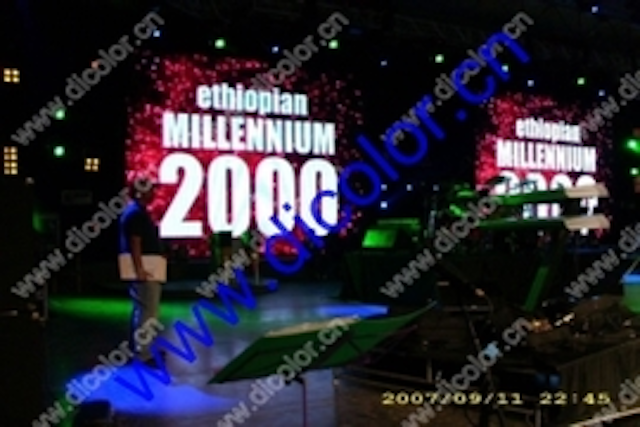 Date Announced: 25 Dec 2007
At 11th, Sep, 2007, Shenzhen Dicolor's LED displays help the ethiopian MILLENNIUM 2000 at Addis Ababa, Ethiopia.
Dicolor offered 6 pcs Pitch 14mm outdoor full colors LED displays(each 60sqm), 1 pcs Pitch 25mm outdoor full colors LED display(70sqm), the video displays make the NEW YEAR celebration more colorful and exciting.
Shenzhen Dicolor Optoelectronics Co.,Ltd, one of Comprehensive Hi-tech LED display manufacturers, are specialized in developing, manufacturing and marketing of indoor and outdoor full color LED display. Our products are widely used in bank, securities, traffic system (highway, airport, railway and subway etc), hospital, stadium and amusement etc public place.
Since the establishment of the company, we recognize the importance of providing good quality products and best pre- to after-sale service, and we are always trying our best offer to improve our design and production capacity. Moreover, we have the CE and RoHS certification for Europe Market, UL certification for America market. Our products are exproted to oversea markets around European countries and Middle Eastern area, such as Sweden, England, Italy, Poland, Romania, Serbia, Turkey, Israel, Spain, USA, Kartel, Russia Ross, Singapore etc.
We enjoy highly trained management team, skilled LED products design and development team. Strict ISO9001:2000 quality control system, modern administration model, perfect marketing network and pre- to after-sale service system are reliable assurance of good quality, enterprise speedily development. And we have several production lines to guarantee enough production capacity.
Our philosophy for management is to service our client with best quality and honesty. We will continue our effort in manufacturing best quality LED display, and making Dicolor Optoelectronics a first class LED display manufacturer around the world.
Company products list as below:
1, China Indoor SMD LED full color LED cabinet, LED display series;
2, China Indoor SMD 3 in 1 LED full color LED cabinet, LED display series;
3, China Outdoor full color LED modules, LED cabinets, LED display series;
4, China Semi-outdoor single color, two color dot matrix LED panels, LED displays;
5, China Outdoor single color, bi-color LED modules, LED cabinets, LED displays;
6, China Indoor single color, bi-color dot matrix LED panels, LED displays;
Contact
Tel: 0086-755-29604771 Fax: 0086-755-29604042 http://www.china-led-sign.com Address: Floor 4, Seat 2, B3 District, FuHai Technology Industry Park, Fuyong Town, Shenzhen, China
E-mail:kevin@dicolor.cn
Web Site:www.china-led-sign.com