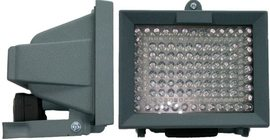 Date Announced: 06 Dec 2007
This month sees the launch by Greenstock of a high quality LED floodlight from Deltech.
This compact floodlight uses no less than 160 LEDs with a light output equivalent to an 80W lamp yet the power consumption of only 10W.
Adding to this huge energy saving is the extremely long life of the LED lamps of 50,000 hours, equivalent to some 12 years life at 50% usage per annum. This leads to enormous savings in lamp replacement and maintenance costs compared with the short lives of conventional, incandescent and halogen lamps.
This new LED floodlight with its excellent light output is ideal for a number of applications from display to security, making it a practical and appealing outdoor floodlighting solution.
Rated IP65, the luminaire measures 185mm x 146mm x 129mm deep with the LEDs available in a variety of colours including warm white, white, multi-colour, blue, red, orange and green.
Contact
Greenstock Tel. 0845 2570 444
E-mail:sales@greenstock.co.uk
Web Site:www.greenstock.co.uk