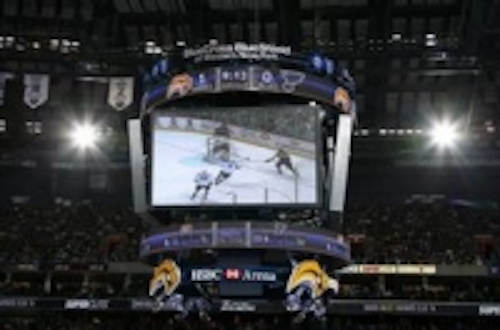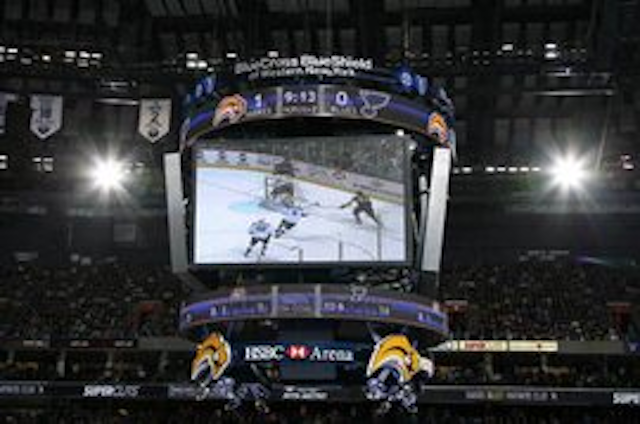 Date Announced: 05 Dec 2007
BROOKINGS, S.D. –– The Buffalo Sabres unveiled a new integrated video and scoring system at their home facility, the HSBC Arena, featuring a unique centerhung display, along with a number of clocks and goal lights, all designed and manufactured by Daktronics Inc. of Brookings, S.D. (NASDAQ-DAKT).
"It has been great helping the Sabres provide their fans with one of the best experiences in the National Hockey League," said Daktronics Regional Sales Manager Will Ellerbruch. "The integrated system allows for flexibility during events and the LED displays are very vivid and bright with great picture clarity."
The state-of-the-art system features the latest Daktronics LED video technology with the capabilities to present live and recorded video images, colorful animation and vivid graphics with incredible brightness and wide angle visibility.
Approximate overall dimensions of the centerhung structure are 34 feet high by 32 feet wide. The centerhung display includes four high resolution LED video boards, each approximately 13 feet high and 22 feet wide with pixels on 10 millimeter spacing. The centerhung display also includes two circular ProAd® digital displays, one approximately three feet high and 105 feet in circumference and the second approximately three feet high and 98 feet long. Along the fascia of the arena are two 130-foot long ProAd® displays.
The four primary video boards are configured in 16:9 aspect ratio to easily display video from high definition sources. Daktronics LED technology offers a long lifetime with minimal maintenance and low power consumption, providing value and excitement for years to come. Daktronics displays use the latest in red, green and blue (RGB) LED technology to present images and information with wide-angle visibility, incredible brightness and offer complete message flexibility. When not showing exciting graphics, animation, statistics, or out-of-town game scores, advertisers are highlighted with a wide variety of visuals and messages.
The custom integrated system for the HSBC Arena includes a number of additional scoring components from Daktronics including three pro model hockey goal lights, 15 wall mount locker room clocks, two LED time of day clocks, two trumpet horns and one set of shot clocks for use during NCAA basketball games and tournaments.
The super system at HSBC Arena is the 12th the company has designed, built and installed in NHL facilities.
About the HSBC Arena
Located on Buffalo's waterfront, HSBC Arena is Western New York's premier sports and entertainment facility. Primarily known as the home of the National Hockey League's Buffalo Sabres, HSBC Arena is a state-of-the-art venue that was designed with all kinds of live entertainment in mind. HSBC Arena is also home to the National Lacrosse League's Buffalo Bandits; and has hosted national profile events such as the 1999 NHL Stanley Cup Finals; the 2000, 2004 and 2007 NCAA Division I Men's Basketball Championship First and Second Rounds; and the 2003 NCAA "Frozen Four" Division I Men's Ice Hockey Championship.
About Daktronics
Daktronics has strong leadership positions in, and is the world's largest supplier of, electronic scoreboards, computer-programmable displays, and large screen video displays and control systems. The company excels in the control of large display systems, including those that require integration of multiple complex displays showing real-time information, graphics, animation and video. Daktronics designs, manufactures, markets and services display systems for customers around the world, in sport, business and transportation applications.
Contact
Call (605) 697-4300 or toll-free (800) 325-8766
E-mail:sales@daktronics.com
Web Site:www.daktronics.com