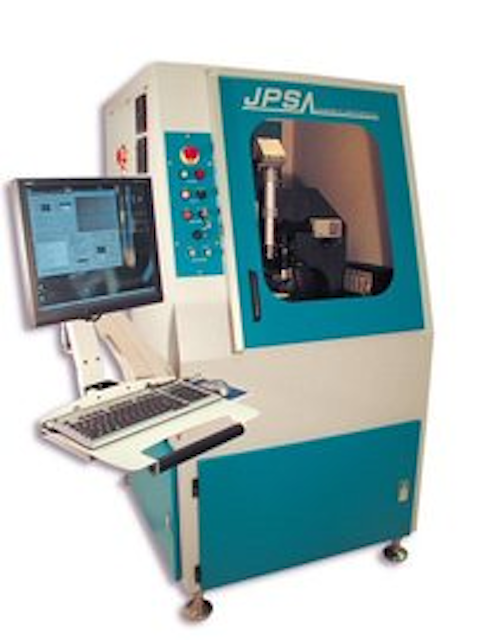 Date Announced: 19 Jun 2007
J. P. Sercel Associates Inc. (JPSA), the world's leading designer, supplier, and systems integrator of laser materials processing workstations, will highlight the wafer dicing and/or LED liftoff capabilities of its UV laser systems at SEMICON West 2007 in San Francisco, in Booth #8707, Level 2, West. JPSA's new IX-4000 series laser workstations are available in both DPSS (solid state) and Excimer laser configurations.
The new IX-4500 ChromaDice™ Solid state laser machining system (shown) delivers high speed wafer singulation integrated with a state of the art wafer loading system. Featuring dual SMIF or FOUP load ports, the IX-4500 is ready for the most demanding wafer die singulation production task. With operation costs of less than $2 per wafer, >99% process yields combined with ultra narrow kerf widths, the IX-4500 sets a new benchmark in process speed, die yield and ultrafast return on investment. Available with wavelengths from 1064nm to 266nm, the IX-4500 is ready for processing a variety of materials, from Si to Sapphire and, when equipped with JPSA's patent pending Toxic Wafer Debris nozzle, materials such as GaAs and InP are handled with ease.
The IX-4000 ChromAblate™ is an excimer laser version for LED liftoff, via drilling, micromachining, thin film patterning and many other semiconductor packaging applications. Whether micromachining features to 2µm or configured for large area exposure of up to 5mm x 5mm, the IX-4000 is engineered for 24/7 industrial production with a high degree of flexibility and configurability. This high-performance system features dual cassette loading ports, production-grade robotics, wafer pre-aligners and vision, all combined in a user-friendly Class I laser system.
Applications for the IX-4000 include laser lift-off, selective wafer annealing, micro-drilling, dicing and scribing, ink jets, via drilling, blind holes, microfluidics, thin film patterning, selective material ablation, MEMS, 3-D micromachining, fire-on-the-fly operation and more.
Features of the IX-4000 include full automation, including part load/unload robotics, pre-aligners and vision system for unattended production. A variety of standard and custom end effectors are available for any part-handling requirement; compact design; modular configuration; plus high accuracy, with linear motor air bearing stages providing accuracies to less than 2μm. The IX-4000 also offers a large workspace, as it can be configured with stages able to handle wafers up to 300mm. Additionally, the IX-4000 provides a uniform beam profile, with a variety of imaging and non-imaging homogenizers available for the most demanding large-area applications.
JPSA products and services include UV excimer, DPSS and ultra-fast laser micromachining systems, UV and VUV laser beam delivery systems, laser materials processing development, optical damage testing, and excimer laser refurbishment services. JPSA operates a high-performance laser job shop as well as a systems engineering and manufacturing business.
Contact
Tel. 603.518.3200 Fax 603.518.3298
E-mail:mmcmarketing@gmail.com
Web Site:www.jpsalaser.com