Tough LED panel lamp from Marl is exceptionally hard
Jun 22nd, 2007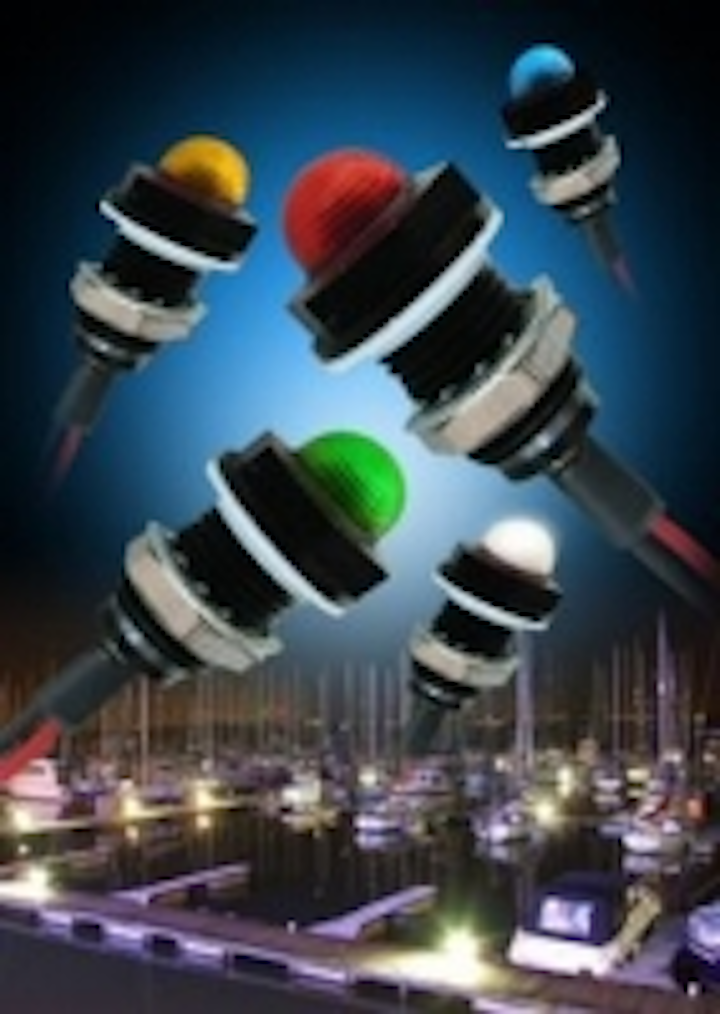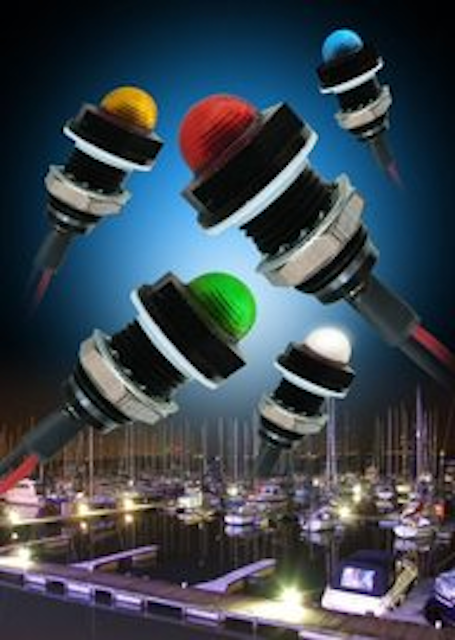 Date Announced: 22 Jun 2007
Ulverston, UK. Marl has announced its toughest LED panel lamp yet with the introduction of a new hard anodised indicator, sealed to IP68 for tough, wet and dirty environments including marine and industrial applications. The new 8.5mm mounting indicator works at pressures up to 10psi and is well protected against corrosive fluids such as sea water as well as against shock and vibration.
The Marl 665 series features a hard black anodised aluminium housing, a domed, shatterproof polycarbonate colour diffused lens assembly, IP68 sealed enclosure as well as a PTFE "top hat" design panel seal to ensure the correct mounting to panel. The indicator features a unique hexagonal bezel to aid mounting and a range of high intensity sunlight readable LEDs is offered in red, yellow, green, blue or cool white. Internal circuitry is designed to operate at 2Vdc - 20mA. Terminations are achieved by 150mm of colour coded flying leads in accordance with Def Stan 61/12 part 18 chemical and flame retardant.
Key features include the aluminium housing, which is hard anodised in accordance with Def Stan 03-26 (50 microns), the self lubricating PTFE seal ensuring indicator centralisation, panel seal to IP68 and the internal potting medium which is cured under vacuum to ensure no air voids are present within the indicator assembly. Mean Time Between Failure (MTBF) for
this family is quoted at over 100,000 hours. The indicator comes complete with full mounting hardware. Future developments include a voltage range up to 75Vdc, smoked lens assembly for exceptional on/off contrast ratio and alternative housing materials to suit bespoke applications.
About Marl
Marl has specialised in the design and manufacture of visible LED indication and illumination components and systems for over 30 years, to customers in the electronic, power generation, defence and telecommunications industries. Its highly trained and experienced team of over 100 design and manufacturing specialists operate from a dedicated technology park in Ulverston, England and stand ready to offer its customers a solution to any requirement. They are able to offer a range of standard products, customised to suit individual projects, or even design a specific component from scratch. Marl is a quality company. It is registered to BS EN ISO 9001 : 2000 standard and is fully RoHS and WEEE compliant.
Contact
Marl International Limited, Marl Business Park, Ulverston, Cumbria. LA12 9BN, UK Tel: +44 (0)1229 582430
E-mail:marketing@marl.co.uk
Web Site:www.marl.co.uk