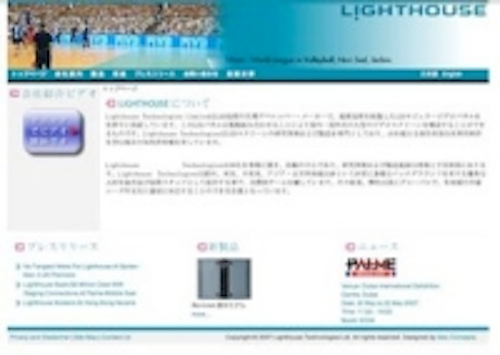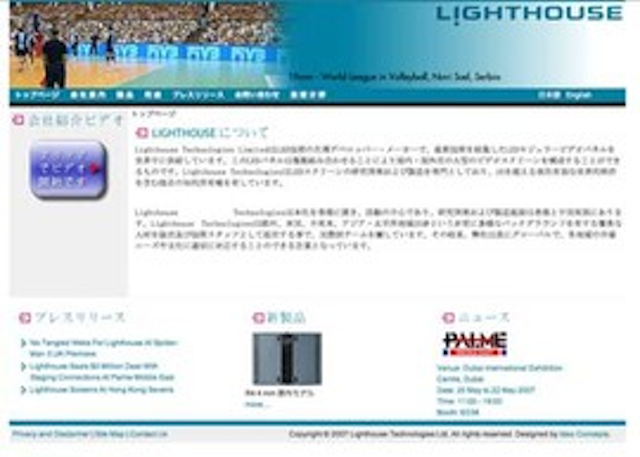 Date Announced: 15 Jun 2007
Hong Kong – 14 June 2007 – The Leading LED screen manufacturer Lighthouse Technologies continually monitors its markets and provides both products and resources to cater to demands. The company's latest development is a dedicated Japanese section on its website: www.lighthouse-tech.com.
This new addition allows Lighthouse's Japanese speaking customers instant access to the latest news, product information and services in their native language. "We are always mindful of the fact that we operate on a global level, but also need to think in a local way," says Lighthouse's managing director, Mark Chan.
"Whilst the English language website is appropriate for the majority of our customers, we want to ensure that information is as easily available as possible to everyone. This new Japanese section is the first step along the thinking, allowing us to have better communication with customers all over the world."
Lighthouse Technologies is exhibiting at Interop Media Convergence in Tokyo from 13 to 15 June, where it introduces it new website, as well as shows its groundbreaking R4 and F12-ER LED screens on booth 8E26.
R4, the 4mm pixel pitch display, is the company's finest pixel pitch to date. Its ultra-high resolution addresses the increasing demand for high definition LED screens. R4 includes remote monitoring of LED failure, power failure and temperature and adopts the fanless approach of the super-quiet R10 screen. This, along with its lightweight, makes it ideally suited to networked five-star boutique applications.
Lighthouse Technologies is also sponsoring Interop with a 1 x 4 panel F12-ER 12mm screen, which is positioned outside the exhibition centre to demonstrate its banner panel application for sports stadiums and arenas.
F12-ER provides high-resolution for longer viewing distance and benefits from Lighthouse's Enhanced Resolution (ER) technology, which employs an advanced digital processing to allow more detailed information to be displayed on a smaller screen.
Contact
Sarah James Gasoline Media Limited Tel: +44 1372 471472
E-mail:sarahj@gasolinemedia.com
Web Site:www.lighthouse-tech.com