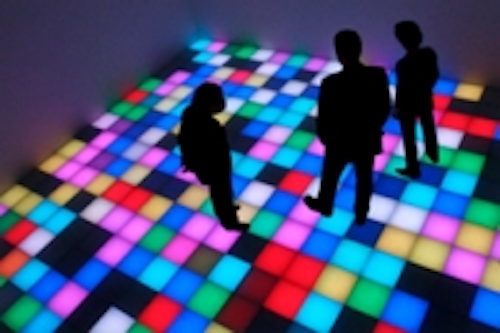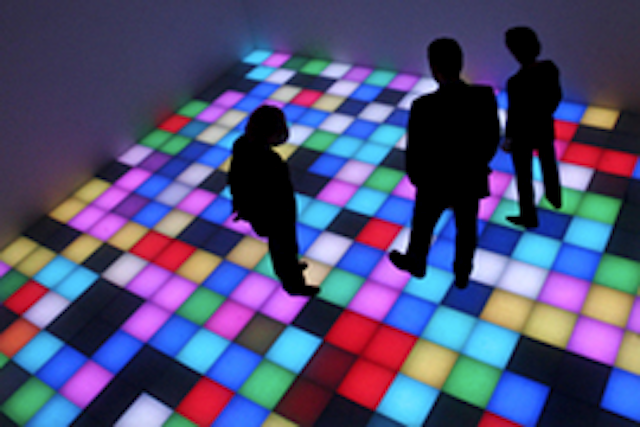 Date Announced: 01 Jun 2007
(New York / Hong Kong, June 1, 2007) – From April until September 2007, "The Shapes of Space" exhibition is on show in New York's leading art museum, the Guggenheim. The remake of Piotr Uklański's Untitled (Dance Floor), 1996 is one of the most eye-catching art objects of this exhibition and was acquired by the Guggenheim to be part of the museum collection.
For the Guggenheim project, a system composed of modular aluminum frames, layered tiles and shimmered glass for optimal transmission of light was developed. The glass has been covered with a clear shield coating to ensure an "easy to clean" top layer. The tiles are not placed directly on the aluminum frame but rest on silicone profiles. The glass tiles fit seamlessly together by means of transparent fluid silicones. Every tile, 30 x 30 cm, contains a 1 pixel Board 16 SMD RGB with 16 LEDs and can be controlled in any possible sequence.
Every floor tile is dynamically illuminated by a LED Board with 16 surface mounted diodes and is controlled in a Sound-to-Light configuration using Traxon Light Management System to realize the artist's vision of a socially interactive oeuvre d'art, rejuvenating his original design using conventional incandescent light bulbs with only limited programming options.
Traxon Technologies is a leading solutions provider in the LED based lighting industry with major offices and certified integration specialists around the world. Combining state-of-the-art technology with award winning design, Traxon Technologies provides a full suite of DMX hardware and software lighting solutions for demanding customers in market segments like architecture (indoor and outdoor), trade shows, exhibitions and corporate events, hospitality and entertainment, shops and shopping malls.
Contact
Christie Lee International Marketing Traxon Technologies Ltd. 208 Wireless Centre, 3 Science Park East Avenue, Hong Kong Science Park, Shatin, Hong Kong T +852 2943 3441, F +852 2480 4460
E-mail:marketing@traxontechnologies.com
Web Site:www.traxontechnologies.com